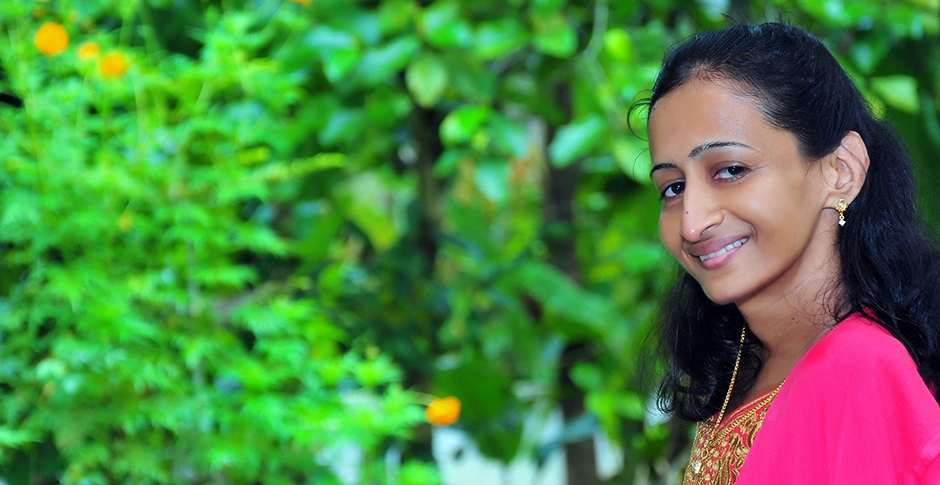 We never made an interview with Indian handicapped person so were looking for some and found armless lady Swapna Augustine born in Paingottoor in Kerala´s Ernakulam district 43 years ago. Her mother was shocked when her first baby was born without hands since in late 70´s medical technology wasn´t as advanced as it is now and there were no means of scanning growing baby inside mother´s belly. Two sons and one daughter were born afterwards but were perfectly healthy. But young Swapna didn´t give up and tried to live a life as fully as possible and now she is well respected foot-painter. We really liked her amazing pictures and thanks to Ayswaya Pillai-coordinator of artists from Indian Mouth and Foot Painters Association (IMFPA) we managed to make an interview with her.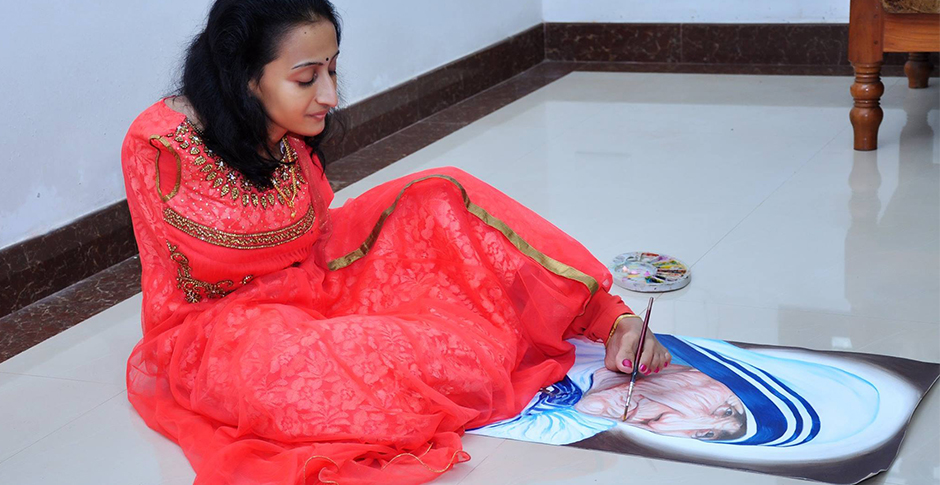 India is a country of big contrasts, very poor people and very rich people. Which background do you come from and how big is your family?
I belong to a middle class family background and there are many members in my family, basically I belong to a joint family.
What childhood did you have and were you accepted by neighbours and school mates or you were looked at as a rarity and often bullied by other people because of your handicap?
I was born in a typical village in Kerala wherein all my neighbours and school mates were very good to me. I was never looked at as a rarity. Luckily the people around me were very supportive. Though it was very hard for my parents, and my mum was my assistant for all activities until the age of four. Then we met a local tutor who started to give me tuition how to hold pencil between toes. My legs didn´t bend as they should and my toes started hurting out of exertion but we didn´t give up and within two years my legs became my hands virtually.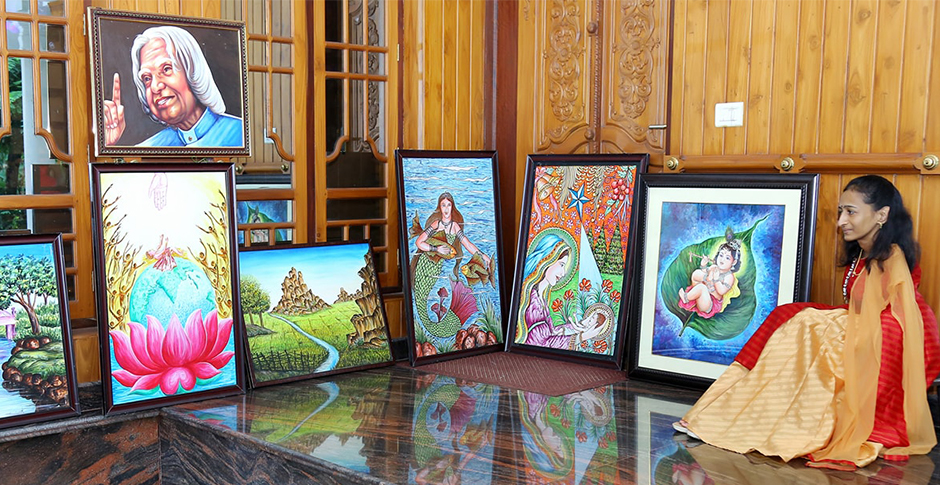 When did you realize you are different from other people and something is missing at your body and was it kind of rare genetic illness? Can you live independently or you have to have a carer for basic needs?
I did my schooling like normal children from a normal school from Changanasseri, Kerala. I was admitted in a boarding school when I was just 6, which was specially established for disabled children. There we were taught to do all our activities by ourselves, to help each other with eating, bed transfer and all other daily routines. My parents were bit worried about my future at the beginning and tried to give me good education and training for normal life.
I wasn´t really keen to interact with normal people at my young age, but we were sent to usual schools among normal children. It all enhanced my social interactions. I think it is very important that handicapped people mingle with able bodied ones since they learn how to behave and accept each other So now I don't require a care taker because 80-90 % of my daily activities I can do independently. I never experienced the absence of both my hands until I reached 8th standard. Until that time everything was normal for me.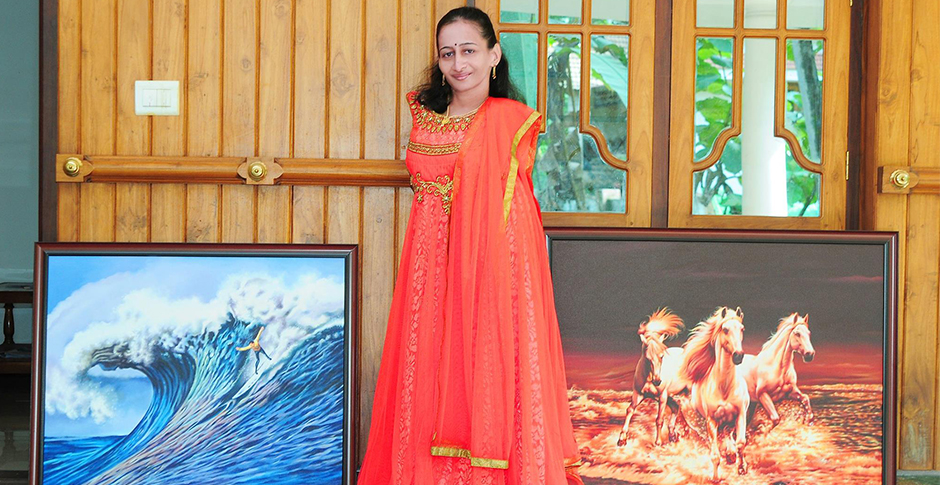 Did you like painting and wanted to do it at any cost or you didn´t know what to do and someone adviced you to try painting and you found it as interesting way of expressing yourself?
Yes, I was fond of painting right from my childhood days. God has blessed me with this talent and I developed it. I started sketching and drawing right from the age of 7, it was never 100 % perfect during those days, but then too I always tried drawing flowers, sketches etc. After attending a workshop where we were taught how to paint with acrylic I then shifted to proper canvas.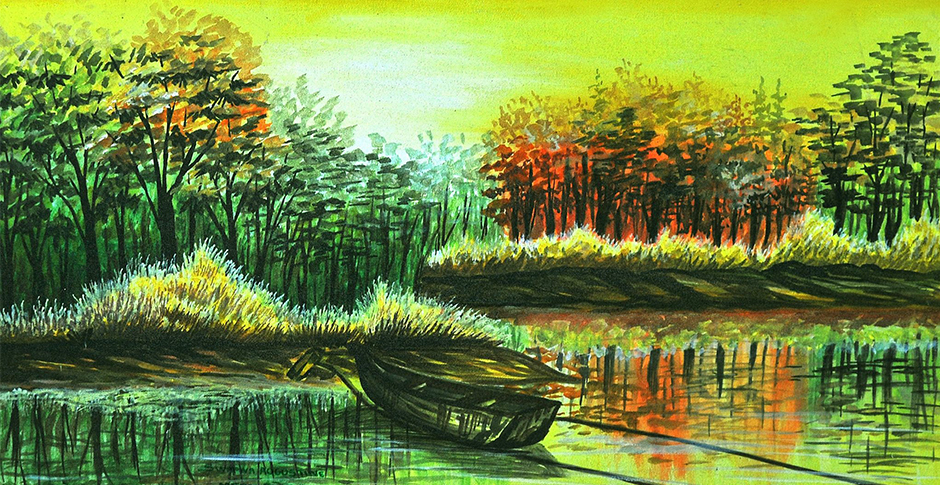 Foot is not usual tool for painting. How difficult was to learn to grab the brush by toes, dip it into colour and paint something you had in mind? How long did it take you to learn painting and are you self - taught woman or you had a teacher or used to go to group of similiar painters?
Initially I learnt to write and eat food with the help of my foot. I started practicing this, when I was just 3 or 3.5 years of age. After that, I started drawing, not with brushes, initially I used to draw with the help of a pencil. Since I do most of the activities with the help of my feet, I have never experienced any difficulties as such. I had never been trained formally until I joined MFPA-India. After becoming a member of MFPA-India, only then I have tried to learn more about painting.
Did (do) you paint what you felt like, what you saw around you, imitate someone or just express your inner feelings? How long does it take you to paint one complete picture?
Most of my paintings are related to nature, my own imagination, I draw whatever I see. I bring my imaginations into the canvas. For me it takes around 5-6 days to complete one painting.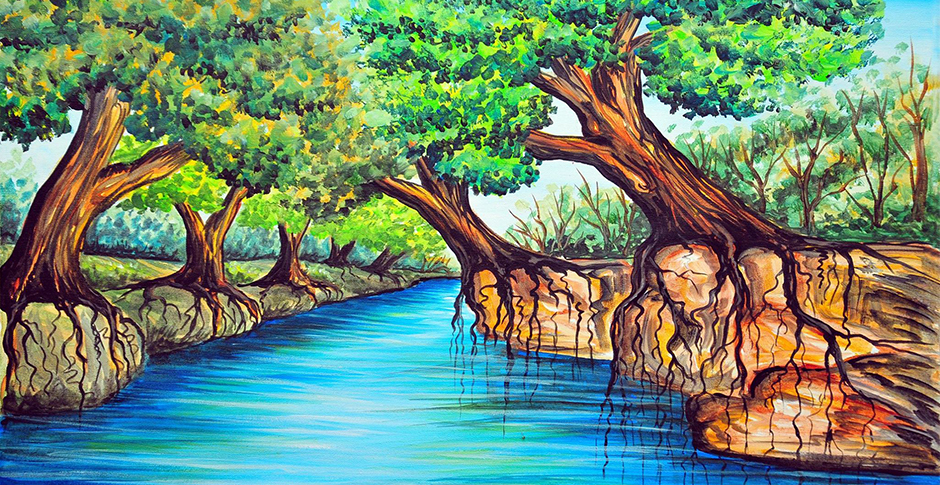 When you started painting, how long could you manage to paint before getting cramps into your toes or leg and did it improve that, say, at the beginning you could paint 5 minutes, now you can paint 60 minutes at one go?
No, I have never experienced cramps, I could paint 4-5 hours continuously at one stretch.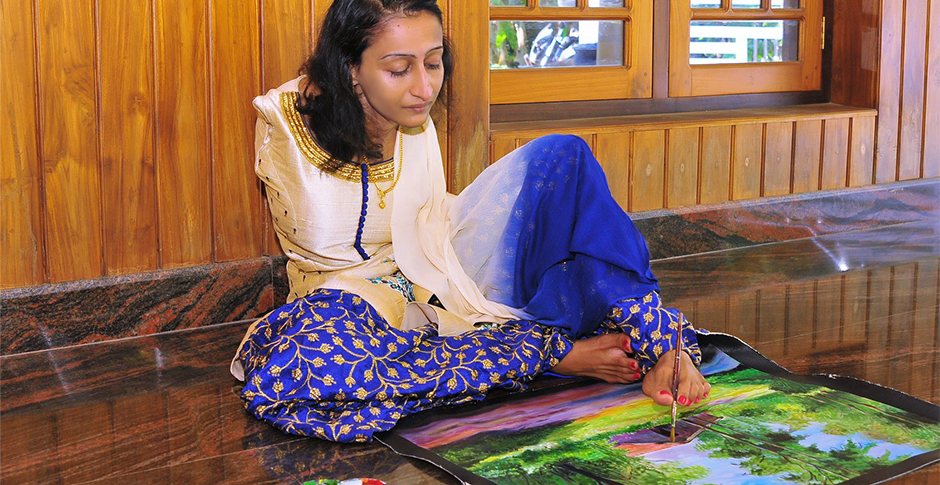 How long do you paint for and when did you realize "this is my style I am happy with" and you don´t find other ways, and only work on your technique?
I have been painting for 20 years. My life and my attitude towards painting has changed only after joining Mouth and Foot Painting Artist.
Did you approach Indian Foot and Mouth Painters Association and asked it for help and offered it your paintings or they contacted you and offered assistance?
Yes, I myself approached Mouth and Foot Painting Artist - India for help and offered my paintings, earlier I had given an application to Canada since I was not aware of the organization in India. So further they helped me to get enrolled in MFPA-India. I joined this organization in the year 1999.
How does it work between you and association? Do you have to apply for membership and supply them certain amount of painting per year to get some financial help or it works other way?
Yes, we need to apply for membership and submit our paintings regularly to our head office on a yearly basis. We get a scholarship on a monthly basis as well as a bonus for the artworks selected for sales.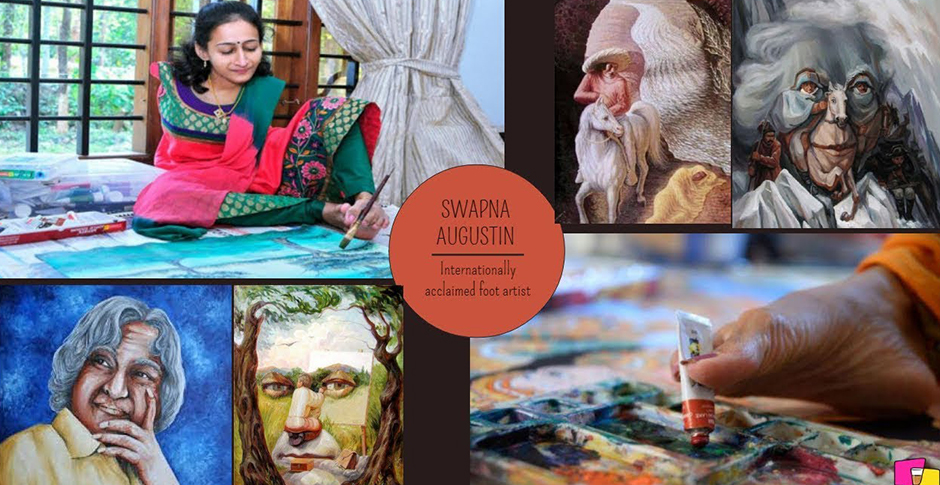 Do you think, your disability helped you to see more of a world, meet more people and become better and enriched person who you wouldn´t be if being an able-bodied person?
I cannot even imagine how my life would have been if I had both my hands. I always believe that if we are blessed with a specific talent, we should utilize it and make the best out of it. God has created me like this, so now I am happy with whatever I have.
Did you have any exhibitions outside India?
No, I have not attended or participated in any exhibitions outside India. I had participated one exhibition in Qatar, which was organized in association with MFPA.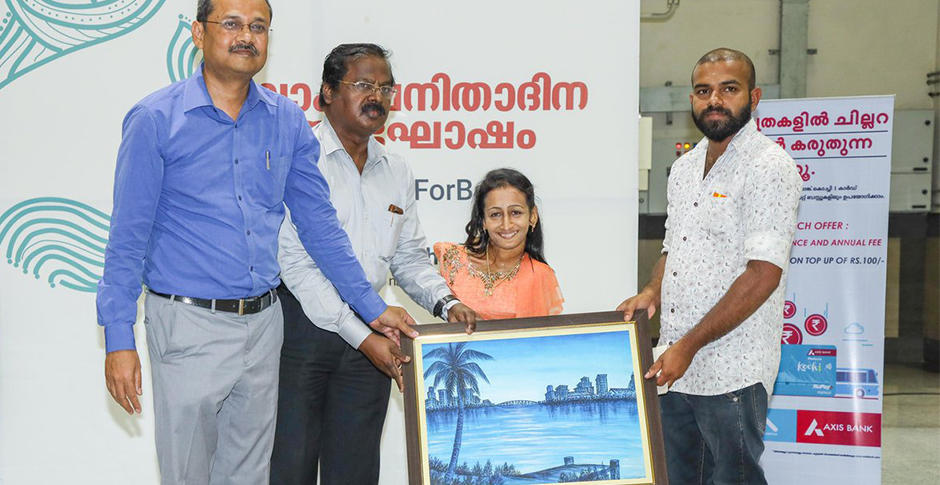 Thank you very much.
2021