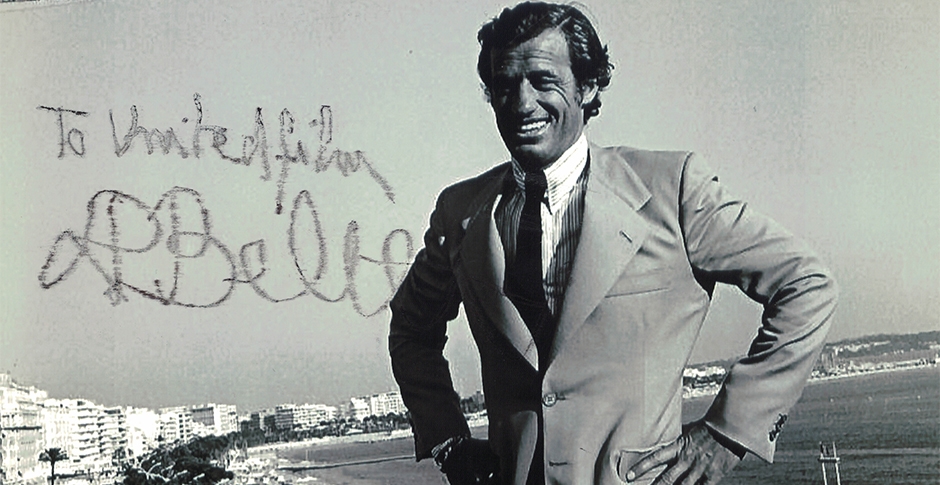 Everybody knows a name of this French actor, who was born on 9. 4. 1933. He wasn´t even 30 years old when he became a star almost overnight. Thanks to his fine look, charisma, attitude, sense of humour, sense for justice and honour and 100 % approach to every film, he became a legend. He became a symbol and treasure of France as well as Eiffel Tower.
During communism, when action movies weren´t made yet in mass quantity and those Americans didn´t get to Czech cinemas, his crime- films or comedies, where he himself did all stunt work, were absolute top for our audience.
He depicted true masculine hero, who was often alone against the evil or system. He was a man every young boy wanted to be and every woman were longing for. Funnily, audience wanted him in these roles and didn´t accept him as enthusiastically in different ones. Despite his heavenly stardom, he stood firmly with his feet on the ground, never turned back to his fans, he was always high- principled man who never forgot what his parents told him. He became an icon. Rest in piece.
As a source of information we used his biography written by Philippe Durant.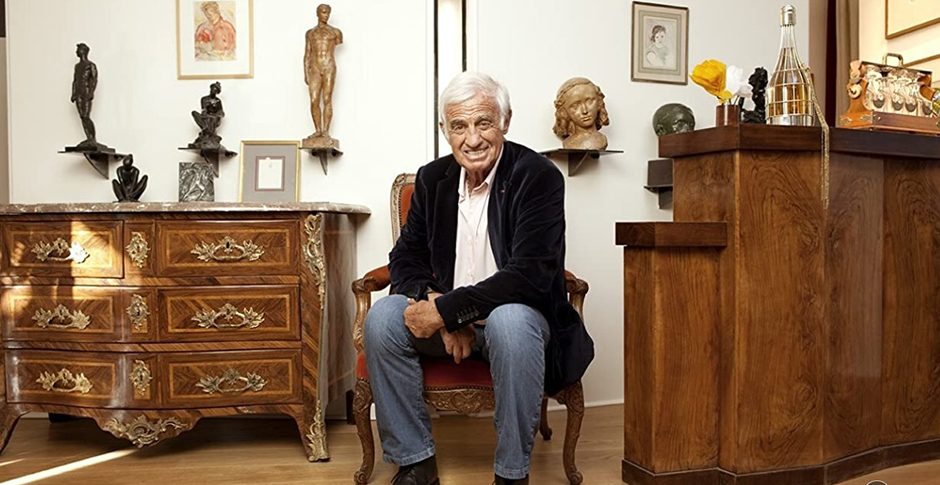 Jean Paul was born into artistic family, two years after his brother Alain. His father was well known and respected sculptor, who always liked taking his sons to his studio and told them about his work. He talked to them as to equal people and Belmondo later said that in father´s studio he learnt more than in various schools. He was bred in love and joy. His mother Madeleine looked after them during WWII when their father was held in POW camp by Germans until he managed to escape. In 1945 boys got a sister Muriel and they moved back to Paris, where Paul got more and more work and very often people from theatre used to pop to his studio. Among them were Pierre Brasseur and Sacha Guitry. Mother often took sons to circus and young Jean Paul fell in love with acrobats and clowns. They also used to visit cinema which was just behind the corner from where they lived.
He didn´t enjoy school very much and instead of study he devoted his time to sport and pranks with friends. He was really good as football keeper and boxer and dreamt about being next Marcel Cerdan. In boxing school, he learnt stamina, tenacity and fighting spirit. But he got tuberculosis and left to the mountains for treatment. Here he pondered his future and decided he wants to be an actor. Father wasn´t against it and he knew that in art, despite having a talent, one has to work very hard and do it on 100 % as in any other job,
He wanted his son to at least graduate from high school before getting into tricky art business and therefor asked his friend André Brunot to test his son, if he has a talent for acting. Jean Paul learnt a poem and recited it with such gusto that he was sent home with result,absolutely no acting talent. He spent a night in tears which showed his parents that he means business and they sent him to dramatic course. He was accepted by Raymond Girard although the school year was already long underway. Girard liked the comedy talent young man had and directed him this way since it was obvious, tragedy and drama wasn´t his strong point. He supported Belmondo´s self- confidence and they stayed firm friends until his death in 1989.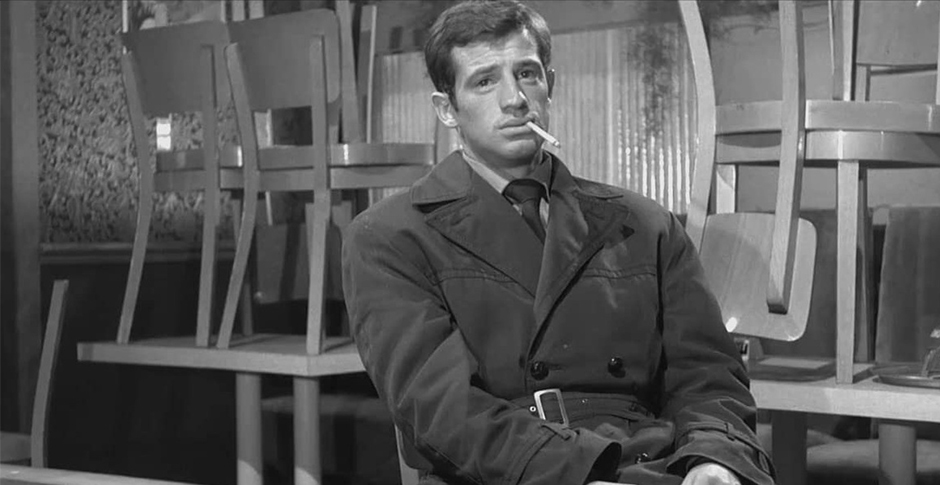 Jean Paul got a small contract and his first public theatre premiere was during series of public performances in care houses and pensioner´s houses. In 1951 he was contracted with another newcomer, his future life-long friend Guy Bedos and they went to tour in Pyrenees where they played "My friend thief." It was dreadful tour, they played in barns and garages and soon packed up and returned back to Paris. They wanted to sign up to conservatory. After really tough exams eleven students were accepted along with Jean Paul, who was twelfth as extra audience. It interrupted by mandatory military service, which was nothing for Belmondo and once during freak accident his superior broke him a nose with rifle butt. He was sent to hospital and played up for doctors who discharged him with invalid pension. He enrolled onto conservatory on third attempt and was sent to class of former actor, professor Pierre Dux. They didn´t get on very well, Dux didn´t like easy going, free Belmondo. Their two worlds met and didn´t have anything in common. Jean Paul, who was wearing second hand clothing, made one of his pranks during conservatory party, when he grabbed homeless man and introduced him to Dux as his father. Professor took a pity and gave jean Paul his older suit. When the truth was revealed, he never forgave this to Belmondo.
At the end of first class, he got a contract in small theatre Michel. He used to come for performance five minutes before it´s start to avoid stage-fright which director took as arrogance. When not in school, Jean Paul and his future acting colleagues Jean Pierre Marielle and Claude Rich liked visiting theatres and cinemas. After that, they enjoyed Paris night life. During one such trip in 1953 Belmondo met his future wife Elodie (René Constant). On left Seine bank there were parties and small theatre groups playing in Montparnasse which he liked, on right river bank there was honourable institution Comédie-Francaise, on which he looked with admiration but never dreamt about being asked to play there. After conservatoire graduation he was looking for the job.
Don´t despair. Work hard and you will get what you want.
His chance came with play Caesar and Cleopatra in theatre Athénée. Further offer was Oscar play where lead role went to Claude Rich but after few performances he was sacked and Belmondo got the part. He felt sorry for his friend and wrote him he will decline the offer since he didn´t feel right but Rich, who thanked him for his gesture, assured him he should accept it. Belmondo did just that, the play was huge success and reviews were positive about his acting. Due to that he got first film offers.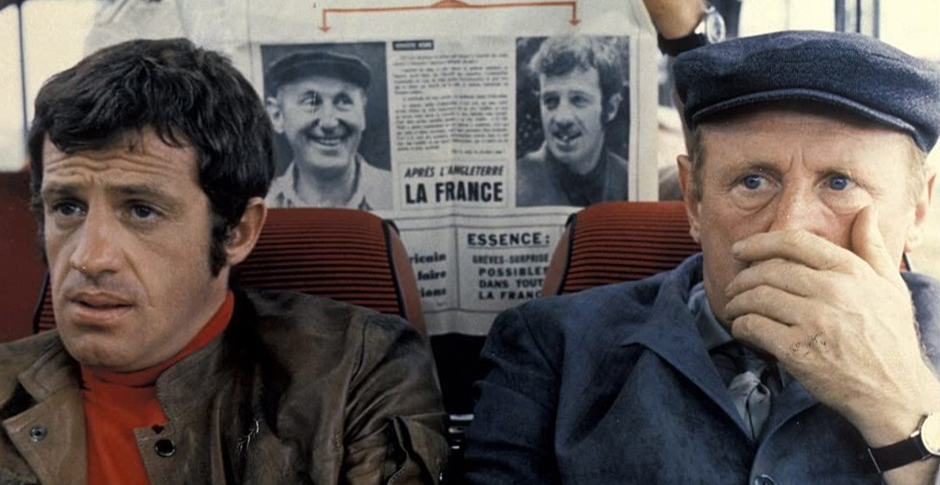 Thanks to them he met his idols Fernandel and Bourvil. With later he met in film Un role de dimanche which was complete flop but again his acting got positive reviews. Then came a film Sois belle et tais-toi and actress Anne Colett introduced Belmondo to Godard. He wanted to make free, independent film which would break traditional barriers and conventions that were given to French and Hollywood filmmakers. Jean Paul wasn´t firstly impressed by Jean Luc, since he never took off his black sun glasses and spoke very very slowly. After some time, Godard called Belmondo and offered him a part in short film Charlote at son jules where he was to play along with Anne Collet. When told it will be filmed in his hotel room, Belmondo suspected Godard be a gay and wanted to refuse it, but Elodie talked him into going there and see how it goes. Neither of actors got any script, director let them improvise while he tried to find right set up for camera. Due to small budget, it was filmed without sound –which was added later on-and film was more or less Belmondo´s dialogue interrupted with partners´ sighs. After that he kept on playing Oscar which was one day visited by two military commission. When they saw Belmondo in top form they informed him his invalid pension will no more be paid and he was called back to the army. He was sent to Algeria but after two months he sustained another injury and was discharged from army for good.
After return he got married (he already had a daughter Patricia) and started from scratch. Father Paul supported him with small financial help and gave him very precious advice: "Never get desperate, keep on working and you will get what you want." His son did exactly that.
He got small part in movie Mademoiselle Ange where was starring Romy Schneider. Film was disaster and he was dejected with it. With hesitation he accepted Claude Chabrol´s offer for film Á double tour. Shooting took two months and director´s attitude completely changed his appetite for film. He was labelled as small anarchist with his behaviour that breaks all traditional myths and who enjoys his life. It was exactly the type Godard needed for his new film Á bout de souffle. Belmondo was given 400 000 old francs which he blew out during a week. His agent told him: "You are gonna make the biggest mistake in your life." At about same time he got an offer for another film but producer protested with words: "Belmondo, no way he can´t hold any woman in his hands." How wrong these "professionals" were!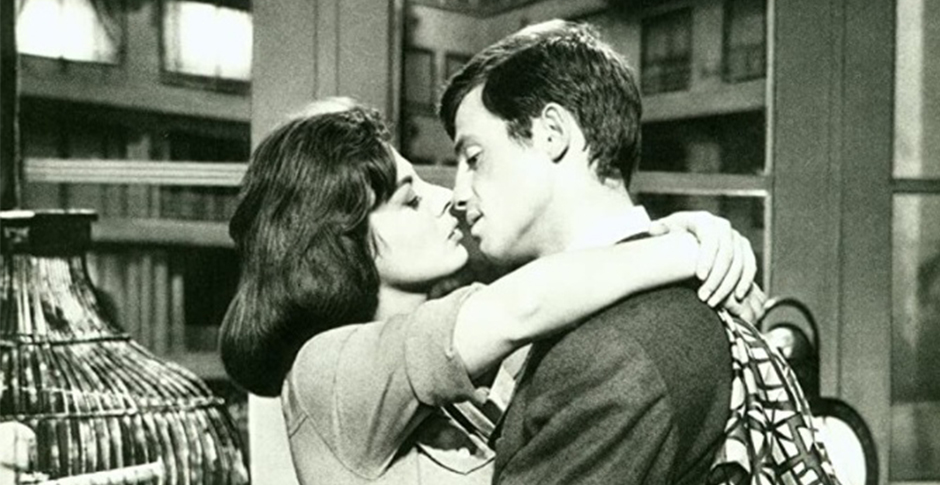 Godard seemed not to know what to do with the story, he wanted to show true characters he sees every day on the streets, how they talk and act. He wanted to go different way and leave traditional conventions. He wanted actress Jean Seberg but she had a contract with Columbia. So, he offered studio 12 000 dollars in cash or percentage from profit. Studio, which never heard about any Godard accepted cash and Seberg was free.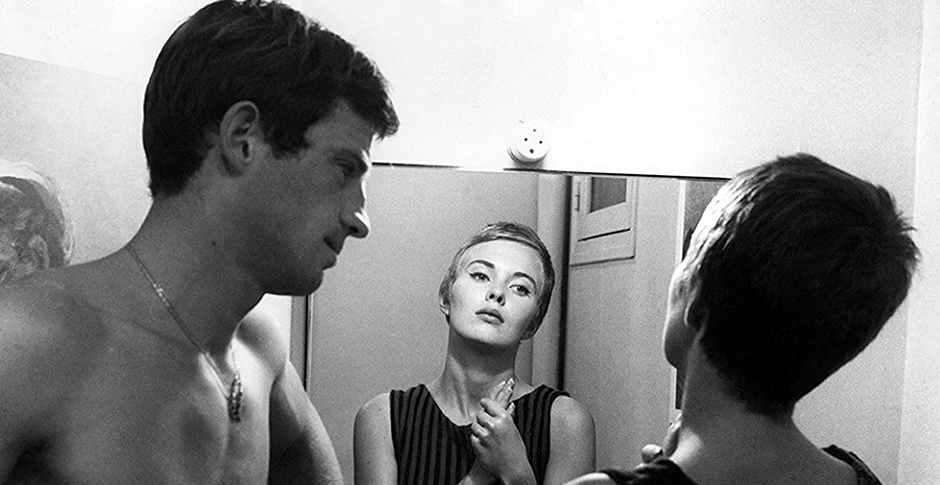 Budget was very low so Belmondo played the whole film in one jacket that was given to him by Jean- Pierre Marielle. Godard positioned camera on the street the way passers- by didn´t notice it. He put it also into the van and filmed actor in the crowd which often didn´t have a clue what is going on. Very often Godard put cinematographer into mail cart and pushed in himself. Crowd sequence was filmed when people on Champs- Elysées were welcoming President Eisenhower.
In last sequence Belmondo was told to run and collapse exhausted. Later on, critics tried to find some symbols on him ending on crossing zebra, but Jean Paul opposed that he only didn´t want to be run over by a car. No symbols. Other time he held specially printed papers with his photo and headline "Public Enemy No. l". some issues laid freely on bistro tables and when guests saw them and him, they wanted to call and inform police. Main hero was bit puzzled from this method and often told his friends:
"I am making a film with loony, he didn´t give me any script, we film anything, I walk in and out and I am sure it won´t be possible to edit it."
First copy lasted three hours and couldn´t be used so more editing was needed and then Godard invited crew and actors for screening. They had no idea what to expect but all were spellbound. Film went to cinema along with last movies of recently deceased Gerard Philipe and new film from Alain Delon so it was symbolic change of film heroes, old generation handed out relay to new young generation. Public accepted the film with applause and over 2 million people went to cinema.
Provocative, natural hero with whom audience identified.
Belmond brought into film new aspects of acting, relaxation, provocativeness, naturalness and sense of humour.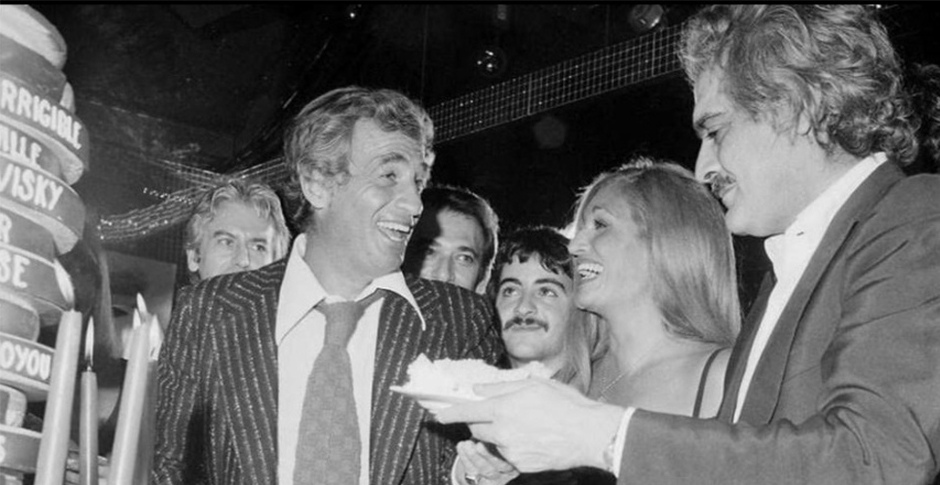 Audience didn´t long any more for spotless, perfect heroes such as Gerard Philipe but they wanted someone who they could identify with. In Jean Paul, they found their hero immediately. Film and Belmondo were often compared with James Dean in Rebel without cause. This film changed the life of its main actor. Practically overnight he became a sensation, press and TV wanted interviews, he had to have his phone number changed. Two of Belmondo´s films got into cinemas at the same time Á double tour and Á bout de soufflé, so he was put among artists of, so called New Wave. This term was used for films between 1958-1962 and it gave a chance to new, raw artists to make their first films.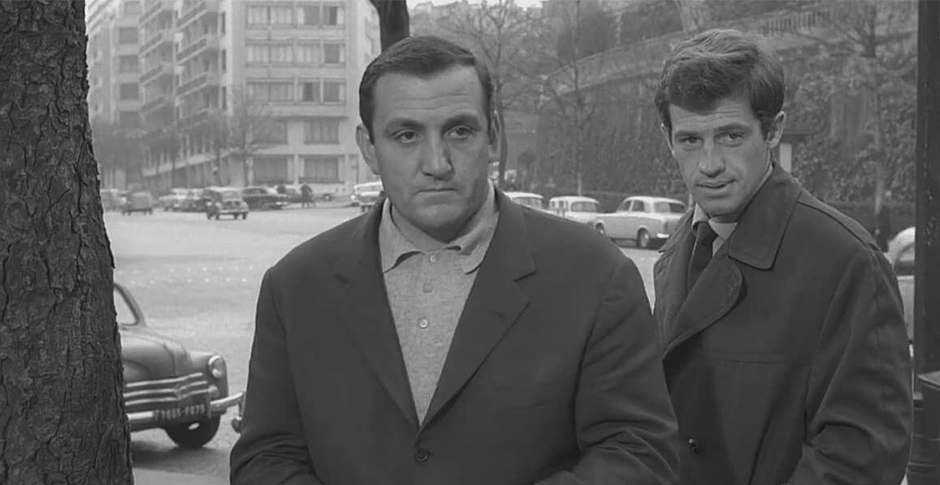 His path crossed with New Wave since they met on crossroad of freedom. But he understood that his job brings fame but also insecurity and started to worry not to be taken by one wave which can end up soon and it would destroy his career like it did to many artists. He tried to act in various films to avoid being labelled and future showed that it was a wise decision since some of his colleagues perished with decline of New Wave. He soon worked with many names connected with New Wave such as Francois Truffaut, Alain Resnais, Edouard Molinar or Philippe de Broca.
Belmondo was offered a TV production of Three Musketeers, but he didn´t like the way of filming and since that time he declined all TV offers.
Á bout de soufflé (Breathless) got Jean Paul into dreamed world of film but simultaneously set wheel into motion on the highest gear. Following film Moderato Cantabile was another success and he became firm personality on French cinematography throne. He went to make films in Italy and his partners were Claudia Cardinale, Gina Lollobrigida and Sophia Loren- the most beautiful actresses in Europe of that time.
He made 14 films in let then two years. In a movie Un singe en hiver he opposed legendary Jean Gabin and it was changing of generations, Jean Gabin was the best French actor of pre-war era, Jean Paul was to become the best French actor of post war, modern era. Gabin told his young colleague: "You are my youth."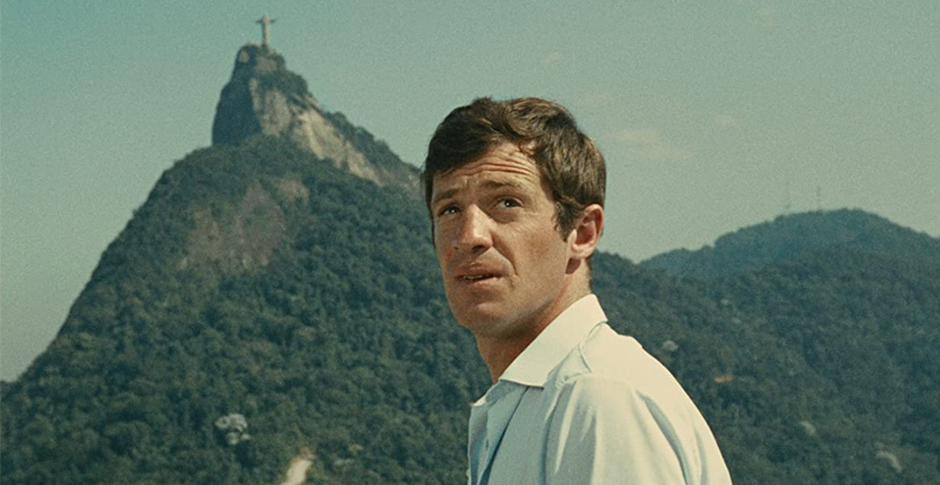 Belmondo was to work with Francois Truffaut on 451 Fahrenheit but was tied with film Peau de banana so his part went to Oscar Werner. Truffaut film became a cult Belmondo´s film became a hit.
In 1963, when his son Paul was born, he flew to Brazil to make film L´Homme de Rio directed by Philippe de Broca.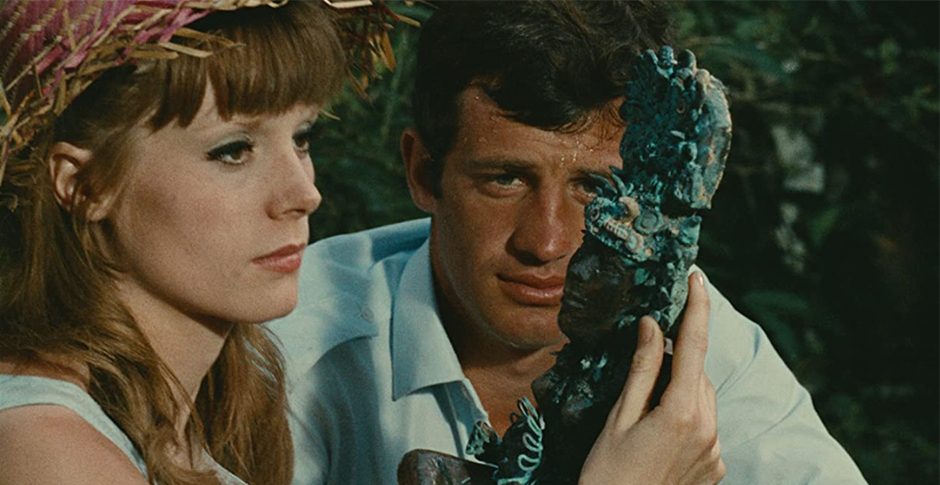 Producer Alexandre Mnouchkine recalled those days with fondness:
"There were thirteen of us, including actors. Jean Paul carried luggage. That film was on shoe string budget. It was great time, we got into places where nobody was before us. Nothing was available here. We filmed in Manaus and there was only one hotel in radius of 1500 kilometres. We did everything from nothing and got used to work with anything we had. We didn´t see any dailies, not a single shot. Only four days were filmed in Paris, the rest in Brazil. When director saw the film in Paris, he phoned me to South America he needs three more shots so I took a hand camera and was looking for somebody on the beach who looked like Belmondo from distance."
Belmondo was in top form and showed some top stunt work. Along with exotic destination, Brazil wasn´t known as tourist resort at that time and French didn´t travel, his charisma and stunt work shot movie into top and 4,7 million viewers went to see that.
Once this film was finished Jean Paul started to make another film with Godard Pierrot le Fou. His acceptance in cinema was lukewarm some people said they didn´t understand the plot. But as time went, it found its way to audience and in 1978 it was rated as the sixth best film in history of French films. Belmondo refused the offer by John Frankenheimer for movie Grand Prix due to his English and his part went to Yves Montand. De Broca called him again and they filmed Les Tribulations d´un Chinois en China. In 1968 he got divorced but stayed as friend with Elodie and always took interest in his kids. He also filmed Ho! and more importantly Le Cerveau with Bourvil.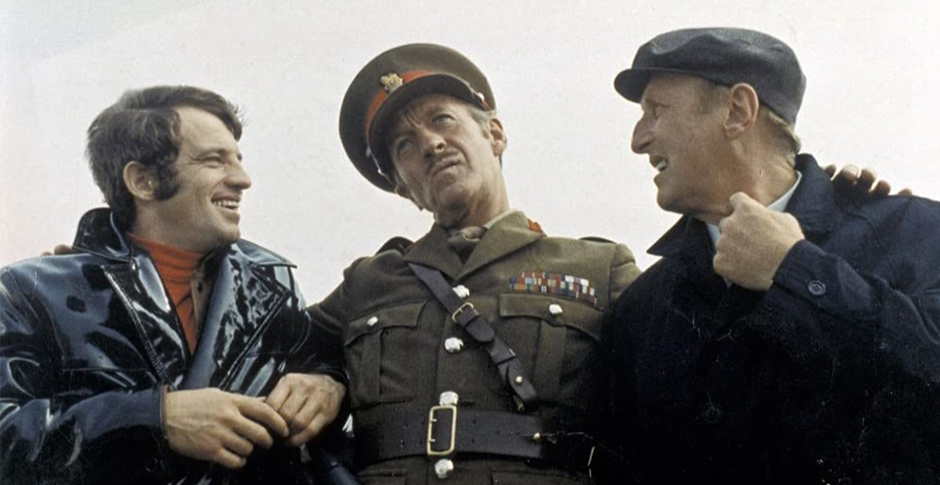 It had international cast, and became a sensation, more than 5,5 million people went to watch it.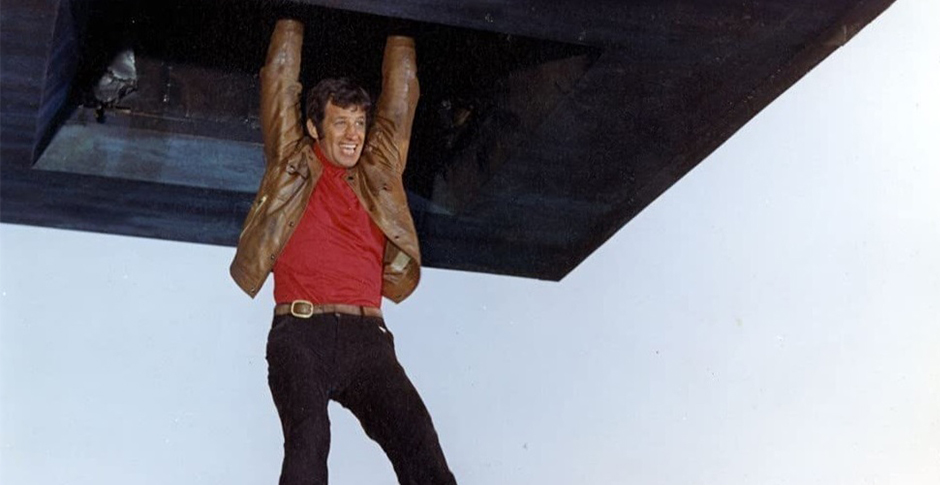 It was mainly press who put Belmondo against Delon as arch rivals. But truth is, that these two stars respected each other, and although there was some misunderstanding, they both were friends. So, it was a big deal when they both played alongside each other in movie Borsalino. It became another hit with 4,7 million viewers.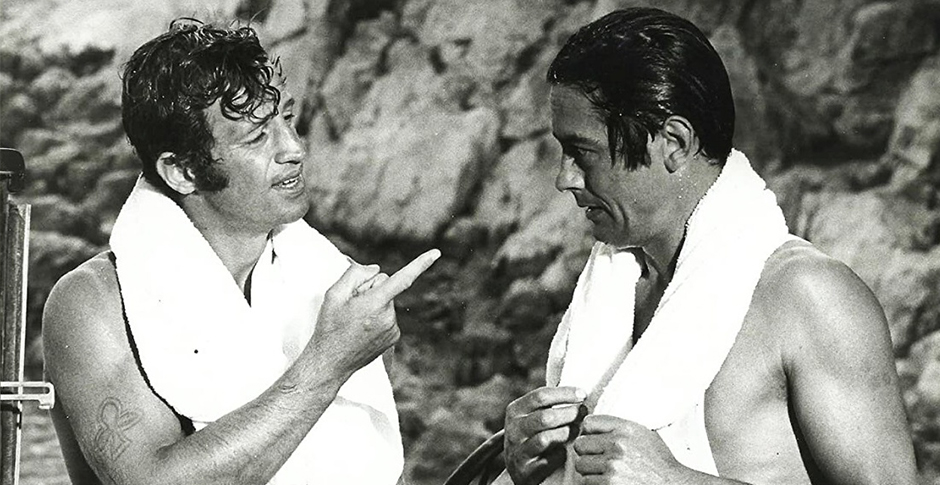 During filming Les Mariés de l´an 1 he firstly got behind Iron Curtain to Romania. As always, he did all stunt job himself. Once he found in wolf trap a dog. He got him out, treated him and they became firm friend. Jean Paul insisted on taking him to France and they were together for further 14 years. Another part of his character - humanity.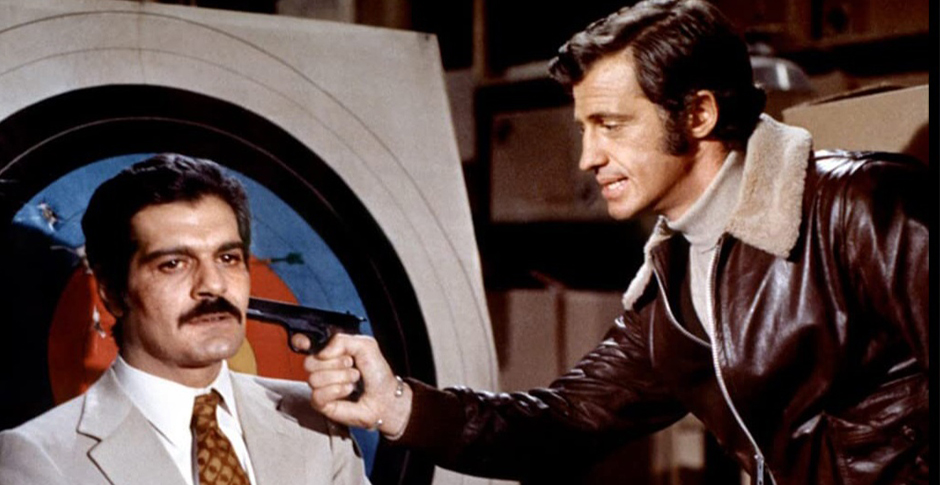 After finishing Le Casse, he decided to become a producer and establish a production company Cerito Films and appointed his brother Alain as director. He was changing styles not to become boxed and really relished adventurous comedies such as Le Magnifique, where he could enjoy his stunt ability and sense of humour. At that time, he already made one movie per year to be able to travel and enjoy his life. In 1974 he firstly became a police detective in the movie Peur sur la ville. He repeated this role in many following movies such as Le Professionel, Flic ou voyou, Le Marginal or Le Solitaire. He was always alone fighting against injustice, villains, using methods on the edge of the law. He again used his abilities and strength to show top stunt work, climbing on the roof, jumping from helicopter onto boat, running on the roof of the fast-going train. and it was mainly in this role where audience love him the most.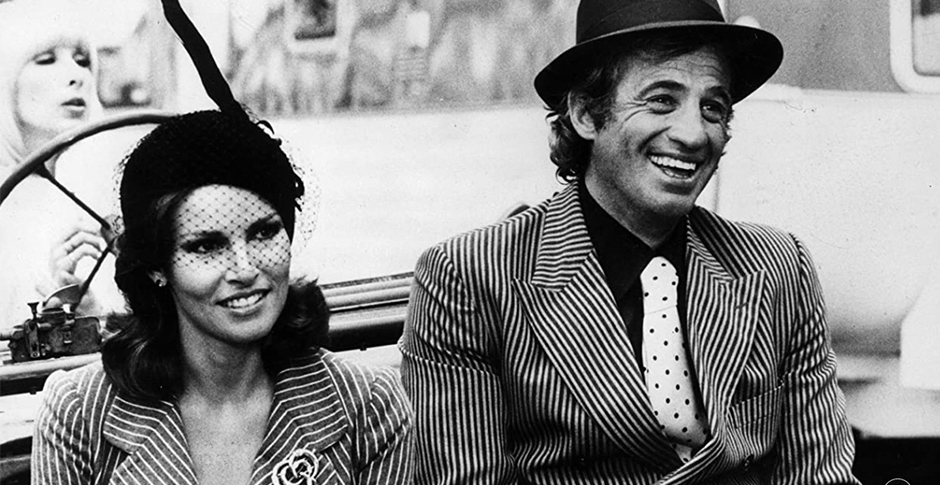 Crime stories were mixed with comedies such as L´Animal or L´As des as and they both became massive hits.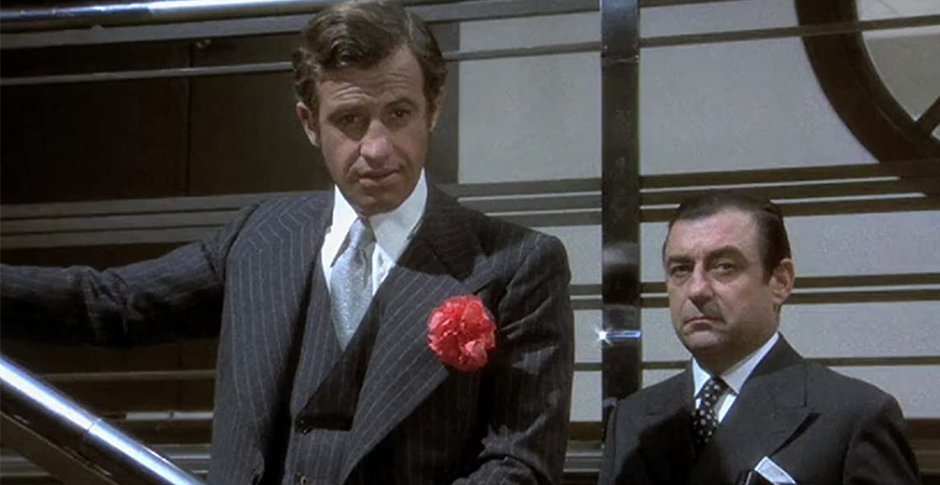 Even such charismatic star as Belmondo didn´t avoid film critics. After film Stavisky, he was criticised for it being thematically deviated from established roles. After massive success of L´As des as it was criticised for shadowing the film Room in the city by Jacques Derry and diverting potential audience from that. When attacks continued even in radios and some petitions were signed Belmondo claimed Derry´s film wouldn´t be a success even if his film didn´t exist. Funny thing is that director himself Jacques Derry felt embarrassed by whole thing and didn´t take any part in it. He wrote apologetic letter to Belmondo.
Only judges who can give us any awards are the audience for who I made my films.
In mid 90´s Jean Paul returned to stage acting in Marigny Theatre. Firstly, it was with Keane and then with Cyrano de Bergerac. It was massive success and he went on the world tour which finished with 30minute applause in Japan.
His son Paul became pilot of Formula One and he was looking forward to see him in Monte Carlo. But when he didn´t qualify, disappointed Jean Paul left Monaco and gave his VIP tickets to random people he met in the crowd. It was his attitude to ordinary people, never turned his back to them. Even when he was in his peak, he never went to Paris café with body guard or masked. When stopped and asked for autograph or photo, he always politely obliged with the smile.
In 1988 Claude Lelouch offered him completely different role in movie L´Ittinéraire d´un enfant gate. For his part he was nominated for Cesar award which he politely refused before nomination with following words:
"I think, that only judges who can give us any awards are the audience, since we are here only thanks to them and it was the audience, I did my films for and always tried to get their votes. Please give your votes to other nominated actors, but not me."
He won us over those years, as an actor and human. So, we always would vote for him as our all- time number one.
Nous T´Aimons Mr. Belmondo. Bonne Santé.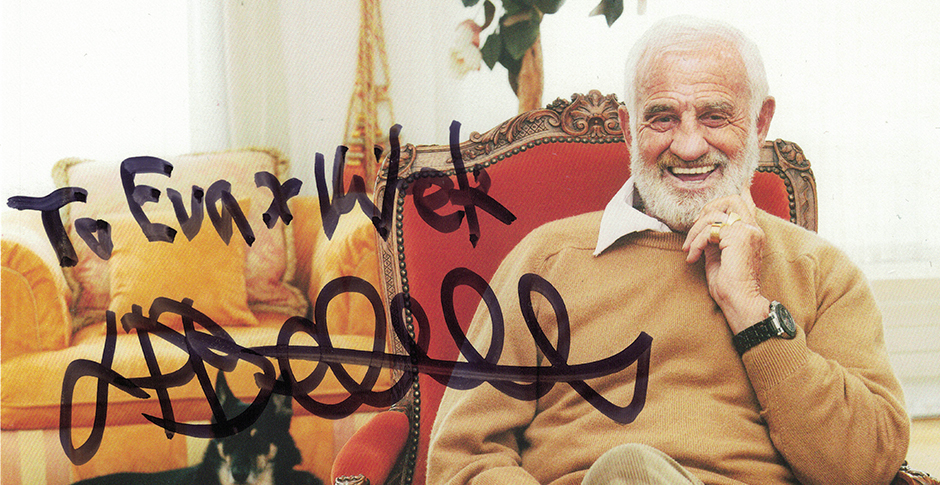 Photos, thanks, IMDb