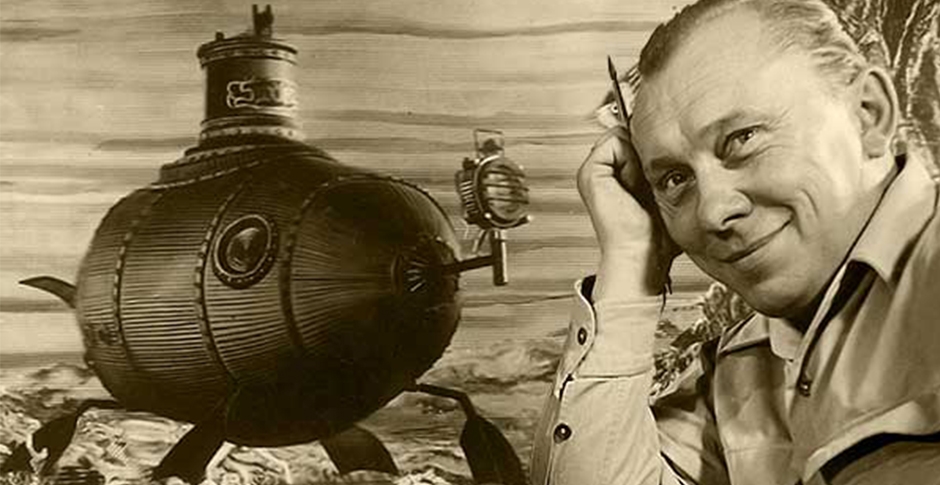 Since this year it will have been 111 years since the birth of our most famous and respected film director Karel Zeman and also 60 years since making his most talked about film Baron Munchausen, we decided to pay tribute to him and commemorate his life and work by sketch. We tried to find as many information as we could from various sources but the biggest help for us was a book Karel Zeman and his magic World, which was written by his daughter Ludmila Zeman and grand-daughter Linda Zeman Spálený and published in 2015 by Albatros Media a.s. publisher. We recommend it too all fans.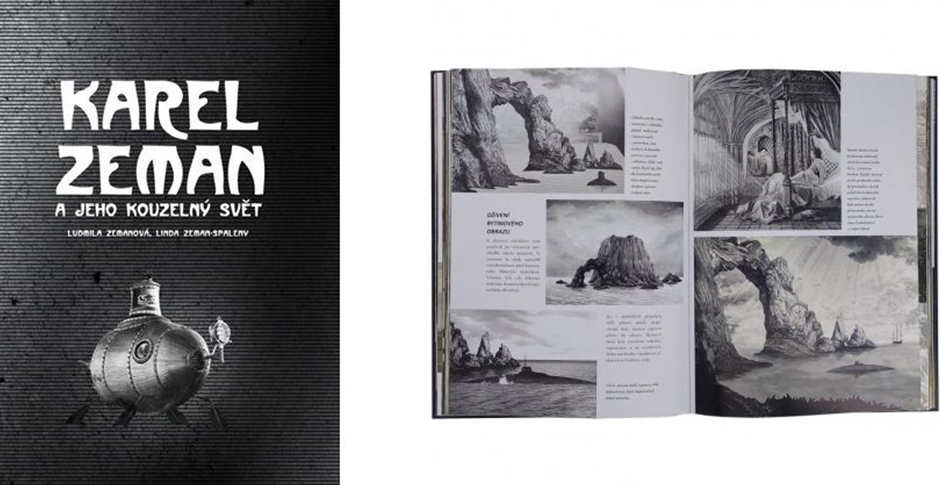 Karel Zeman was born on 3.11.1910 in Ostroměř near Nová Paka. His father František was artistically gifted and was engraver by trade. Sadly, in 1917 he died of pneumonia and his wife had to raise Karel and his younger sister Věra alone. She re-married later on but her new husband didn´t care about kids and lost all her properly in cards. She had a son Zdeněk with him and his step- brother Karel carved puppets and played fairy tales with them for him. Sadly, small Zdeněk has died of scarlet fever but positive attitude towards kids and puppets never left Karel and he devoted whole life to them.
Already at school he showed his artistic and literary skill which didn´t go unnoticed to his class teacher who tried to persuade his mother to send him to photographic school. But his step father was against it so young Karel went to business academy and he learnt German. Later he became business salesman but since he firstly met with advert graphic at school, he used his talent to design posters and banners.
When he was 18. he found an advert in the papers which offered job in France so he packed up a small luggage and went there by foot. He got his first job in St, Rafael and for his first salary he bought bicycle and camera and went to discover Southern France, Nice, Monte Carlo or Cannes and ended up in Marseille, where he found well paid job in D. Prier studio.
Apart his daily job he privately started to study graphics. Once the studio got an order for small animated movie but no one has ever done such thing before, Karel didn´t throw in the towel and he and his French mate bit into the task. Later he recollected his apprenticeship years:
"We had no experience in this branch so we borrowed rolls of films with Cat Felix and other animated grotesques and with help of magnifying glasses we studied frame by frame and tried to understand the secret of animation. It opened up the world of fantasy for me."
In 1930 he was called back to Czechoslovakia to undergo two years of national service. He was sent to cavalry regiment in Dašice by Pardubice. During the service he fell in love with horses and he used them in his future films all the time. After being discharged, he went abroad again by foot and visited Yugoslavia, Greece, Turkey, Africa, Egypt and Morocco and then France again. Here he worked again for various advertisement companies up until 1936 where he had to go home to help financially his mother. After a long search he found the job in Tatra company as a clerk and alongside that he worked in advertisement department for Baťa company. After mobilisation he worked only in advert department.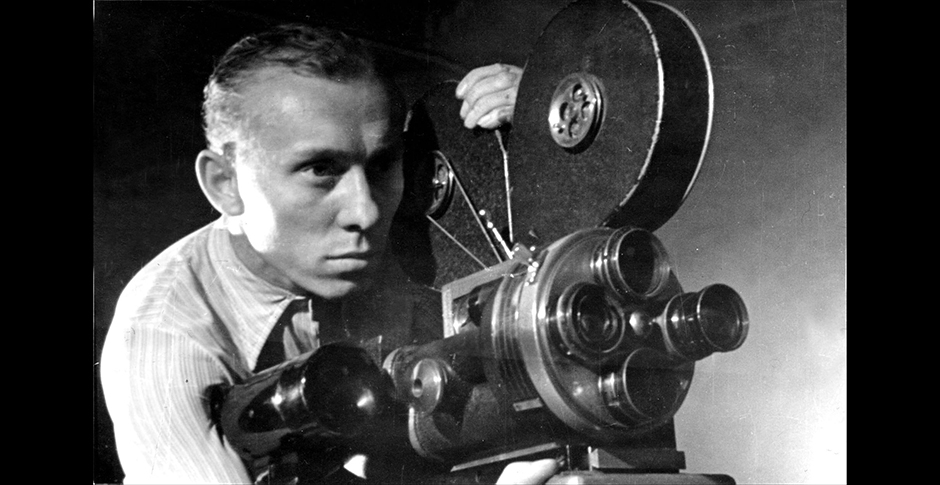 In 1939 he got a full-time job in Baťa´s factory in Brno. Thanks to his skill and language knowledge he got a job in Baťa branch in Casablanca. But he forgot to verify his Protectorate document and when borders closed, it was too late. He stayed at home and up until 1943 worked in Baťa´s store in Brno. During that time, he married a girl Ludmila Kyvalová, who he met in rowing club. God knows how would his destiny turn out had he left for Casablanca, and maybe valid passport would have caused that there would be no films such as Deadly Invention (Vynález zkázy) or Baron Munchausen (Baron Prášil). Due to war, the advertisement budgets got smaller and smaller and Karel Zeman had more and more time to try and work with puppets and film. As self-made-man he animated puppets at home into deep night.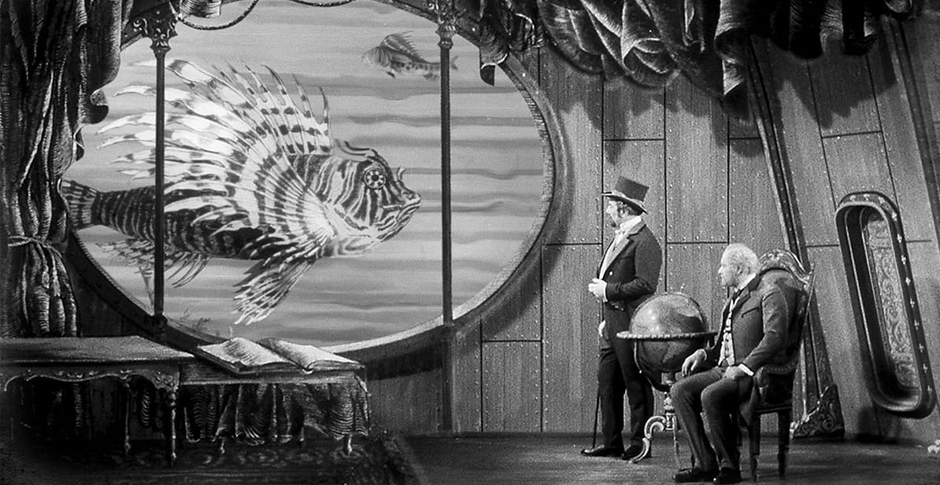 At one arranging competition, one of the many which he entered and won, he met and befriended director Elmar Klos who captured whole event at film for Zlín studio, where he worked. He invited young Zeman to show management his work. Everyone liked it very much and he was offered a job at puppets film studio. Karel was on the crossroad, facing tough decision as many would-be-artists before him and many more after him. Swap current well paid job and certainty for moving to village where he didn´t have either flat or even half-pay, but hope, he will be able to do what he was longing for-puppets film.
He chose journey to uncertainty which paid off later on. But beginning was hard, he got small room in a house with no running water or electricity and had to go to work in studios every morning across the forest. At the end of the war, it certainly wasn´t very safe place. His determination and effort where surely admirable but he was also very much supported by faithful wife. At the end of 1945 a combined puppet film with live actor was made under the title Christmas Dream (Vánoční sen). He collaborated with his namesake but not relative Bořivoj Zeman, also a film director and it was their only collaboration ever. Bořivoj made the sequence with actor, Karel made the animation part. He did everything by himself, from puppets, to lightning, script, music, editing and only one assistant helped him to switch on the camera. On first post-war festival in Cannes in 1946 he won the first prize for short film.
As a self-made-man I learnt at home how to animate puppets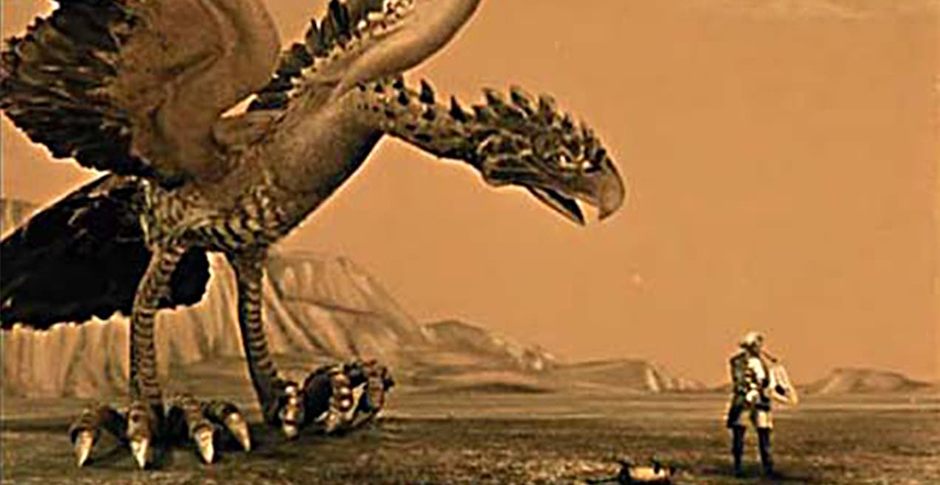 After the war, only two crews were working in Zlín studio, one of Hermína Týrlová and second of Karel Zeman. There was a danger that due to this lack of effectiveness the studio could be closed. Prague offered Zeman a job in studio Bratři v triku (Bros in T-shirt) but he wanted to create different type of films and experiment. He fought with hard work to save the studio and created a character of Mr. Prokouk, while Hermína Týrlová filmed Mutiny of Toys (Vzpoura hraček).
Mr. Prokouk became very popular character and people liked him very much and didn´t bother that he preached them what is good and what is bad. The last part of the series with this character was made in 1949 and after that comes a new experimental film called Inspiration (Inspirace), where he revived blown glass figures. From technical point of view, it is one of the peaks of his career.
At the beginning of 50´s, Zeman devoted more time to puppet fairy tales such as King Lávra (Král Lávra) or Treasure of Bird Island (Poklad ptačího ostrova). Then he decided to revive character of Mr. Prokouk and that was from simple reason. He needed more time before shooting Road to Prehistory (Cesta do pravěku) and his crew had no other job and they wouldn´t get any extra money to their meagre salaries. So Mr. Prokouk gave them something to do and both parties were happy.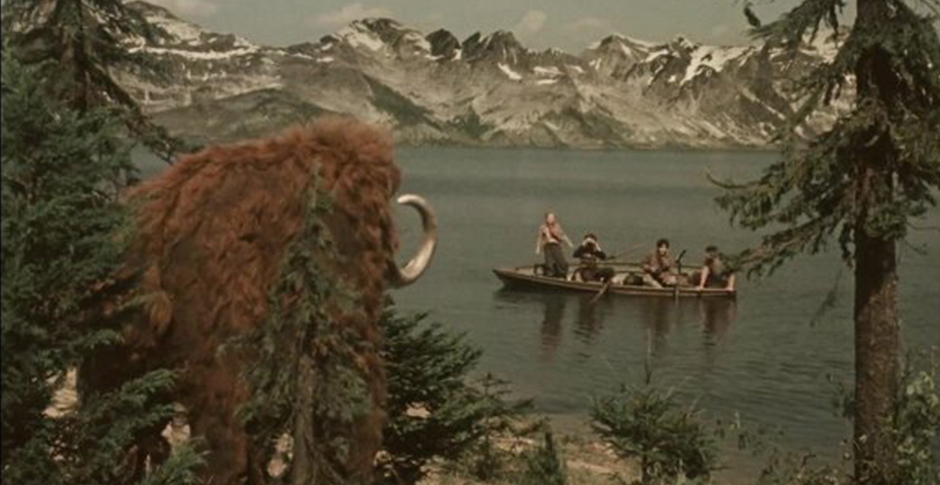 For the film Road to Prehistory (Cesta do Pravěku) Karel co- wrote a script with dramaturgist J. A. Novotný. Technical script was elaborated in detail, each frame was described, Zeman studied deeply the work of paleontologist Dr.Sc. Josef Augusta and drawings of Zdeněk Burian. It was shot in Zlín studios where there was never ever shot a feature film before. Zeman remarked later on:
"I wonder today from where did I pick up the guts and courage to start such extraordinary project empty handed. I took advantage of all film imagination possibilities and connected together feature film, animation and puppets in one unit."
Realization of the film was very difficult both technically and physically. Crew with director slept in tents on the set and they had only one battered bus to his disposal. During filming in the river Karel Zeman almost drawn and before film was finished, he got pneumonia. Not fully healthy he discharged himself from the hospital and went to set.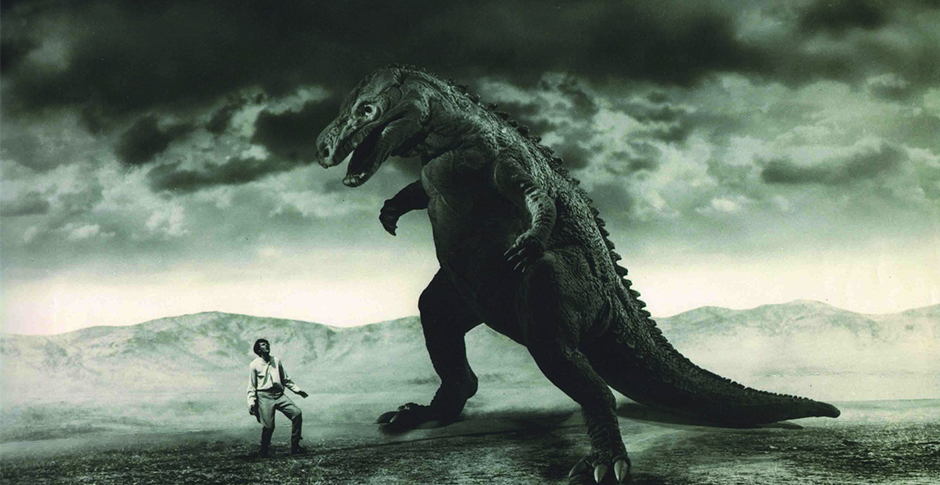 Hard to say if Steven Spielberg watched this movie before making Jurassic Park, we would like to believe that he was inspired by that. But despite the fact that during making of his film and after premiere it was highly praised for its´ perfect digital animation, we dare say that unlike modest Zeman movie, which enchants and amazes even today, American movie didn´t stand the test of time and hardly anyone will watch it again these days. Unlike Czech film, there is SOMEHING MISSING in it and that SOMETHING is educational element and his story line. Zeman wanted to zoom in world millions years ago, Spielberg only wanted to amaze the audience.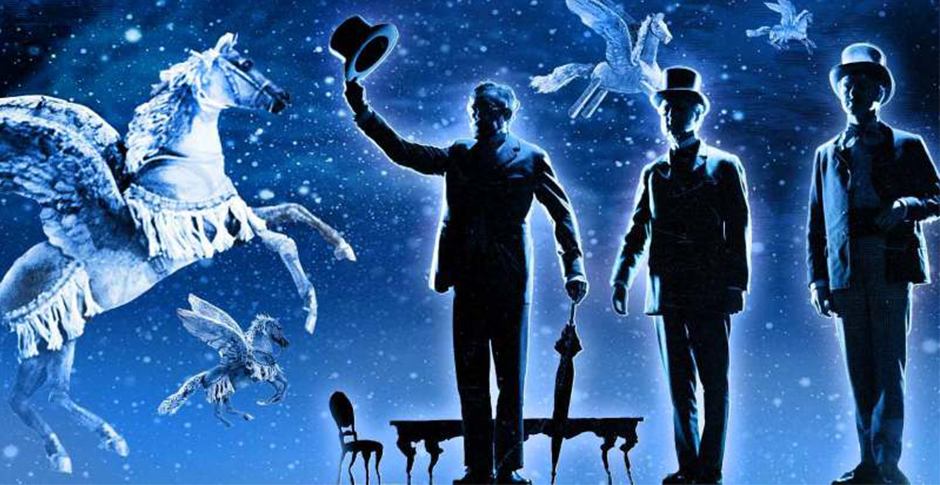 Adventurous spirit and fantasy of Karel Zeman is often connected with writer Jules Verne and cinematographer Georges Meliés. Despite the fact all three lived in different era, they tried with same amount of power tie together technical progress, romance, poetry and fantasy. Zeman admired both aforementioned artists and after Meliés he became only second ever director who tried to transfer world of Jules Verne onto film screen. It was no mean feat. Americans tried that in movie 20 000 Leagues Under the Sea (20 000 mil pod mořem) and Journey around the World in 80 days (Cesta kolem světa za 80 dní) but final result was miles away from book artwork.
New field of art film brings many problems but at the same time reveals such vast possibilities that we can´t estimate today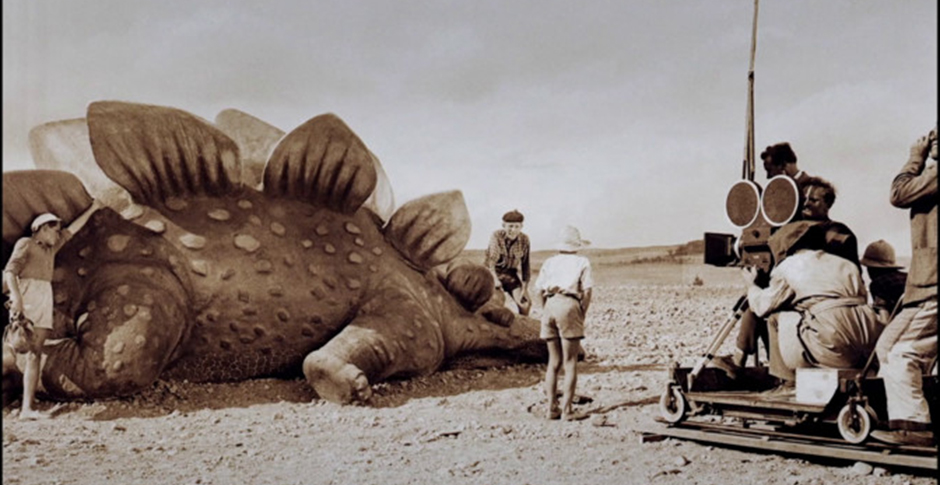 Zeman tried to preserve atmosphere and form of original illustrations and while in classic feature film, decorations, props and acting are made to deceive audience and create them the impression of reality, in Zeman´s film it is directly opposite and actors and their behaviour are adapted to the style of old engravings. Zeman cooperated on script with writer František Hrubín and adapted less known Verne´s novel Face au drapeau, which enabled him very loosely revive the author´s world and connect that with anti -war idea. In his film Deadly Invention (Vynález zkázy) he created a method which was labelled around the world as "Zeman´s invention", where he tied real actors with animation of real countryside and painted scenery. Every art element, mainly light, was much thought of and every movement of the actors was thoroughly rehearsed. Scenes from underwater world were shot either under conditions of real film or in small aquarium 140 cm long x 20 cm deep. No big water reservoirs as used by James Cameron in Abyss.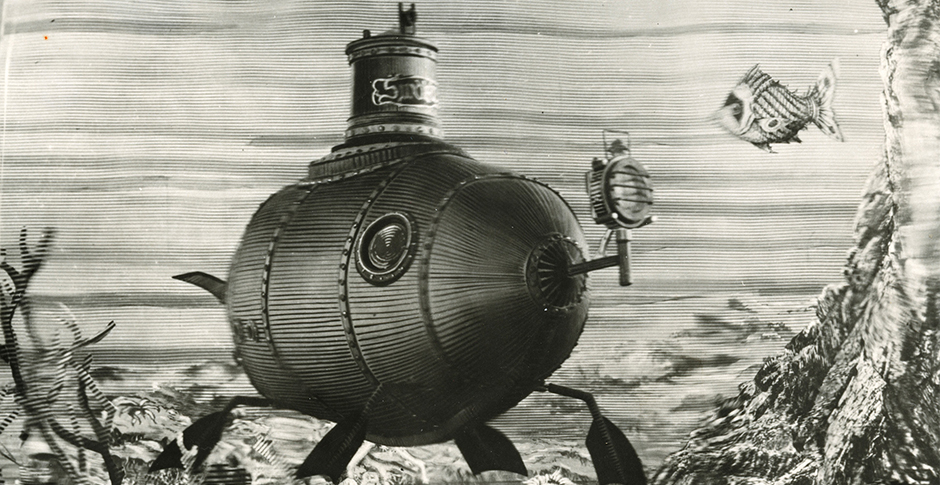 Whole film was made according to usual two years´ plan in Zlín studio. Half of the costumes and equipment had to be hired from Barrandov studio in Prague since Zlín studio wasn´t equipped for feature films and even crew had no previous experience with such film. Karel Zeman relied on his trick studio which he built during previous years. With following words, he could send the message to future American directors of big budget, digital tricks riddled films:
"Conditions, under which we created and filmed "Deadly Invention", were very moderate, mainly from technical equipment point of view. But even under these conditions it is possible to shoot very good trick film, since appropriate application of trick and astonishment by trick shots is usually matter of good script and directing, rather than technical devices."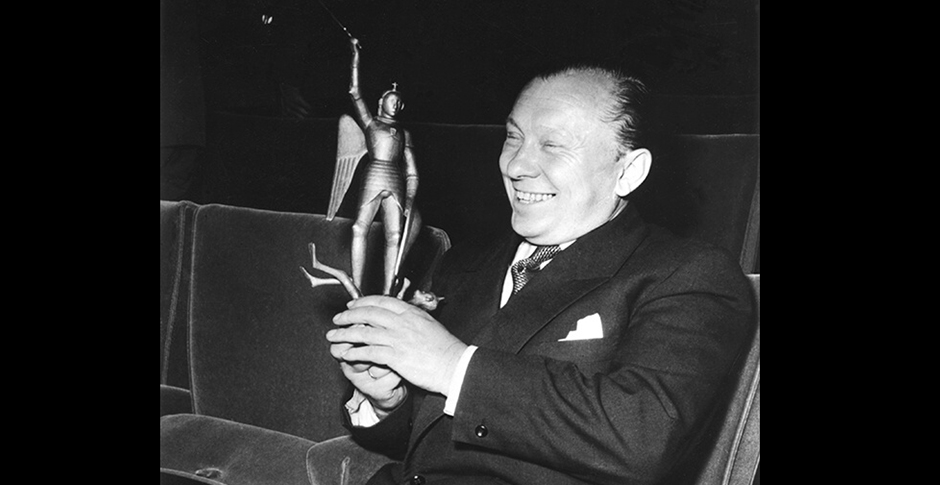 Deadly Invention (Vynález zkázy) stunned audience and critics. On Bruxelles film festival by World exhibition EXPO 1958 it received votes from all journalists from all over the world and defeated films by Orson Wells, Fellini and Kurosawa. Still during the festival, film was sold to Japan, USA, Canada and many European countries. In New York 76 theatres screened it at the same time which is fantastic achievement.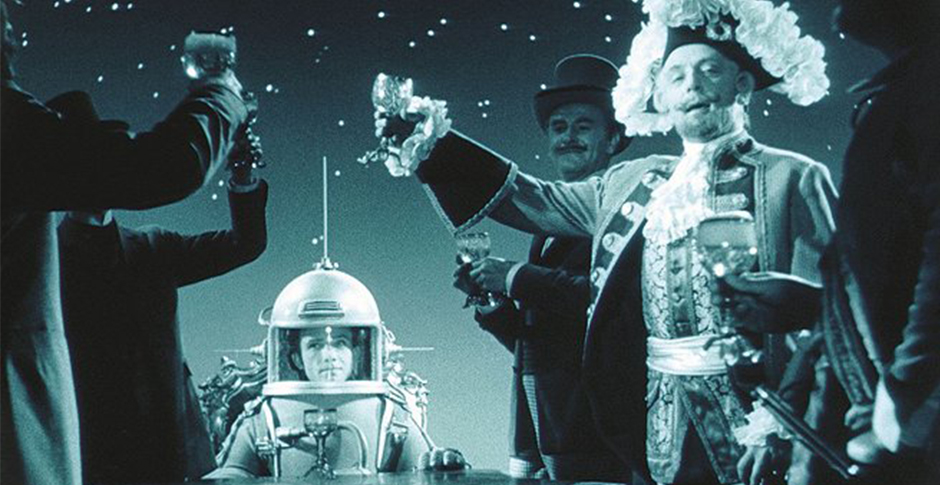 Next in line was a movie called Baron Munchausen, (Baron Prášil), which was made three years later and is considered as the top of Zeman´s creative career. Up until these days it amazes with its processing. Top ace expert of animation work and Zeman´s films Englishman Paul Wells told us on Zlín film festival:
"Even after 60 years, Zeman´s movies create questions, how were they made. Audience likes the story and, which is important they are still interested in the way how he made it."
Film started to be shot in times when the space conquest race got under way. Universe and technology stunned director. In his film he connected romance with fantasy and signed top Czech actors. Core of the film was detailed technical script which was important since film was made in various places in various studios and his story was in rococo era which Zeman strictly adhered to. Baron Munchausen was filmed in black and white negative which was coloured later on. For this film, Zeman hired horses from nearby stable which was so run down and the club so poor that with film money he helped them to renovate barns and run for entire year. He cooperated with that club in all of his future films. Again, filmed stunned the audience and critics, and won accolade on festivals in Locarno, Cannes, Vienna, Moscow, Boston, London etc.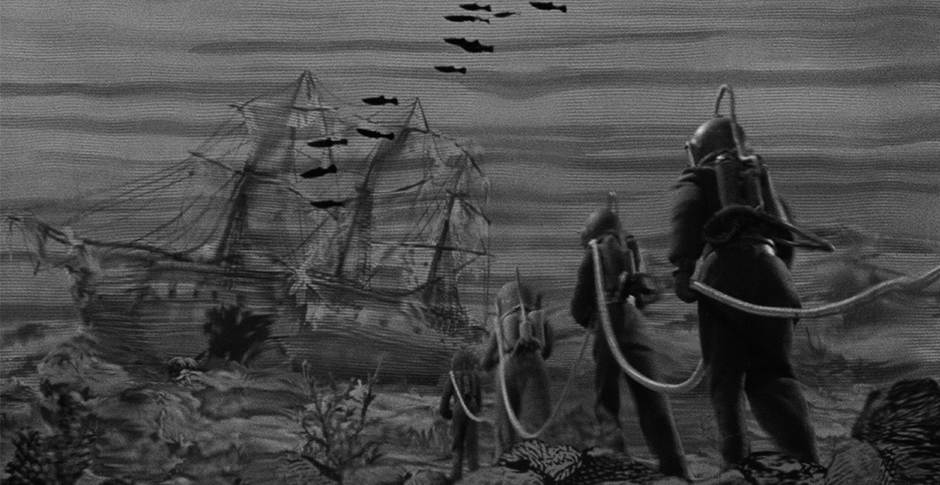 After this film Zeman made further three trick films Fool´s chronicle (Bláznova kronika), Stolen Airship (Ukradená vzducholoď), On Comet (Na kometě). All films were very successful not only for original story but also for the way it was made. But Karel Zeman started to feel he was caught in his own trap:
"Combining different components and technology, there is a danger hidden in it, that after few minutes of film spectators get use to technology and will get bored and won´t be surprised anymore. I would need surprise every twenty meters of film but it would have to work."
Technical complexity of shooting was bigger and bigger with each new film and Karel Zeman couldn´t handle it alone. Because of this, for film Baron Munchausen (Baron Prášil), he wrote two detailed scripts for two film crews, one based in Prague and second based in Zlín. In mid 70´s he left big trick films behind and returned to his old love, fairy –tales. When he was affected by health issues (he almost lost his sight) he devoted more time to his family and relished the life and cut down on his work effort.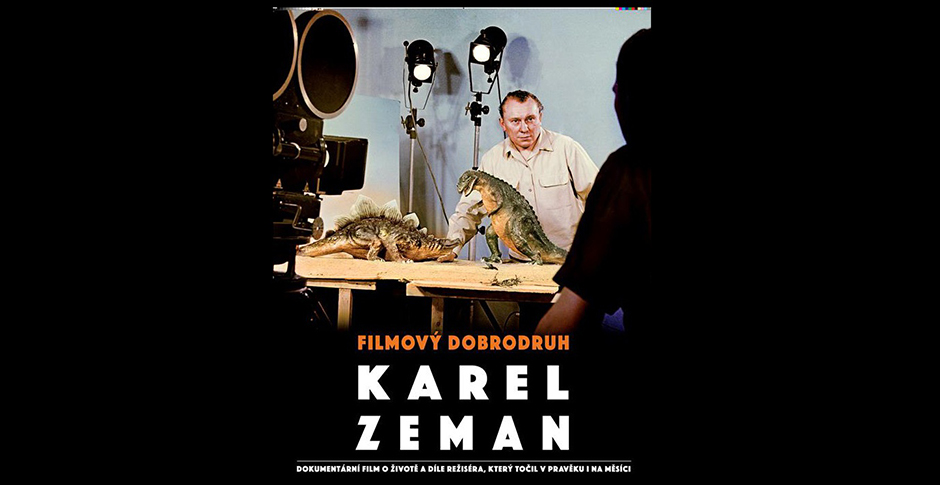 When does creator feel happy? Only twice, when he starts his project and when he finishes that.But once he stretches his muscles and catches the breath he starts to doubt: Shouldn´t I have done it differently? Will viewer understand that? And the happiness is gone just like that.
Karel Zeman connected romance, fantasy, skill, inventiveness, directing ability with art to narrate. His films are breathtaking even today and what is very important, alongside today´s technically sofisticated films, after more than half a century, they don´t look dated, on contrary, they still raise interest for the way they were made. His fantastic world was remained captured on film and it is great that his museum was opened in Prague near Charles Bridge. It will bring his work and life closer to tourists from all over the world.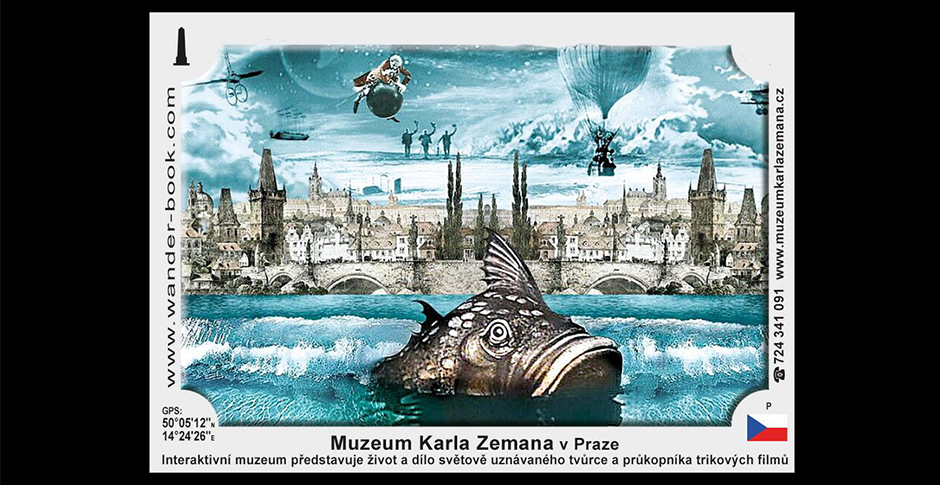 Photos: © Muzeum Karla Zemana, z.ú.