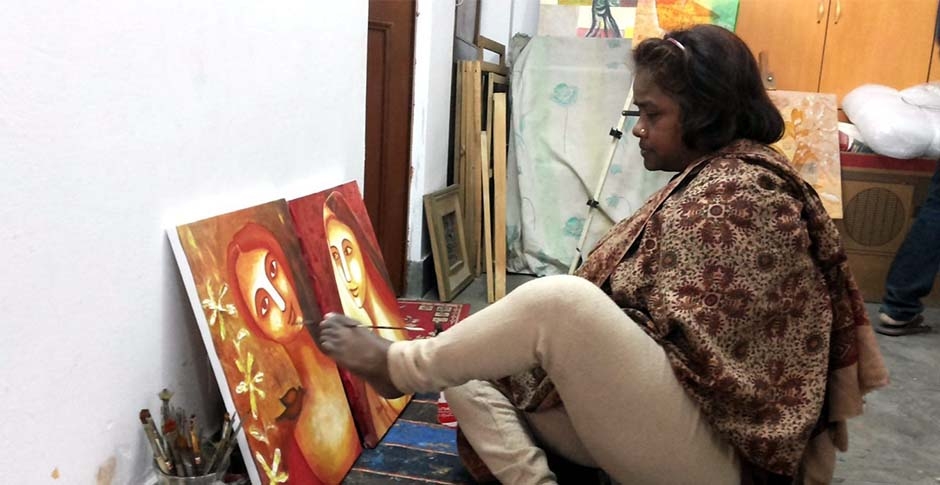 Sheela Sharma is a foot-paint artist from India. We picked her up since she lost her arms and almost a foot when she was only four in train accident. As if it wasn´t enough, she lost her mum and brother in very same accident. But she didn´t give up. When she was studying a boarding school in New Delhi, she came across an artist who inspired her. Despite her father never understanding an art she followed her dream and started to draw with her foot. We thank IMFPA coordinator Ayswaya Pillai for helping us with interview.
India is a country of big contrasts, very poor people and very rich people. Which background do you come from, and how big was your family?
We are five members in the family which consists of my husband, two children, my mother-in-law and me myself. We belong to middle class family background.
What childhood did you have and were you accepted by neighbours and school mates or you were looked at as a rarity and often bullied by other people because of your handicap?
I lost my hands when I was just four in a train accident. I had two types of friends. One who always supported me and others who used to tease and make fun of me.
When did you realize you are different from other people and something is missing at your body, and was it kind of rare genetic illness? Can you live independently or you have to have a carer for basic needs?
Amidst the accident, I lost my mother and brother, and that was the time when I lost my hands. Initially, it was quite difficult for me to do all of my activities. But slowly and gradually, I became used to that. So now I do most of my activities myself and I don't really require help from others. I require someone to accompany me when I travel.
Did you like painting and wanted to do it at any cost or you didn´t know what to do, and someone advised you to try painting, and you found it as interesting way of expressing yourself?
I was fond of painting right from my childhood days. I used to draw from a very small age. So, one of my teachers noticed my art skills and encouraged me. Then I completed my 5 years´ degree from an Arts College. But some people didn´t like my painting and thought it is very strange and even told me I shouldn´t continue painting the way I did. They were even so "nice" that they told me it won´t take me anywhere. But I didn´t give up and fought against all odds. I think instead of discouraging people who already must overcome some difficulties and limitations, people should at least make a contribution by encouraging the person with disability.
Foot is not usual tool for painting. How difficult was to learn to grab the brush by toes, dip it into colour and paint something you had in mind? How long did it take you to learn painting, and are you self - made woman or you had a teacher or used to go to group of similar painters?
I have never experienced difficulties as such in holding the brush or while dipping it into the paint. I used to do all the activities with the help of my feet. I started making greeting cards with the help of my foot when I was in standard 8th. People used to like it very much and in fact, some people have kept it safely even till now. When I took admission in art college, Arya sir (Wash painter), guided me more on my painting skills. He was my guru (teacher).
Did (do) you paint what you felt like, what you saw around you, imitate someone or just express your inner feelings? How long does it take you to paint one complete picture?
Most of my paintings are related to nature and women. I have done plenty of works on the mother and child concept. I usually show the unconditional love between a mother and a child. It takes around 1 week to complete one painting.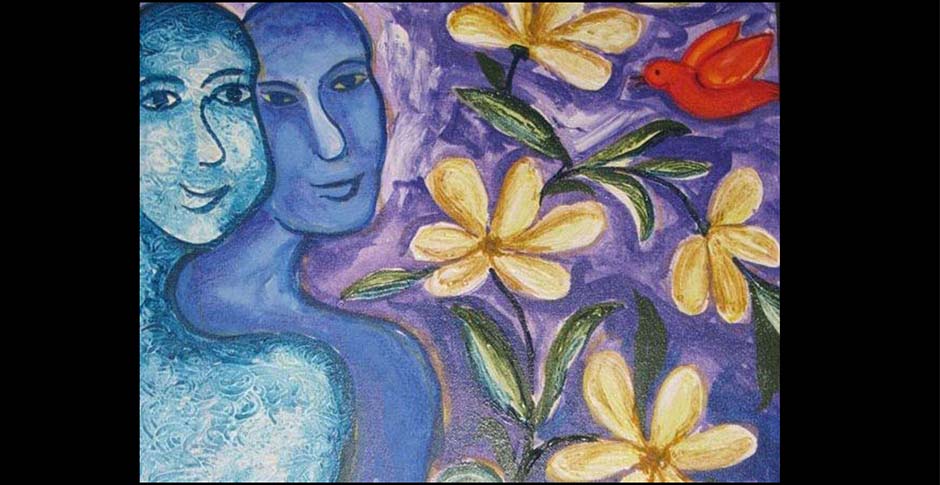 When you started painting, how long could you manage to paint before getting cramps into your toes or leg and did it improve that, say, at the beginning you could paint 5 minutes, now you can paint 60 minutes at one go?
Earlier on I managed to paint for 4-5 hours continuously. Nowadays I am not able to paint continuously for 4-5 hours, taking my age (53) into consideration. I take a break after every hour now. But this was not the case when I was young.
How long do you paint for and when did you realize "this is my style I am happy with", and you don´t find other ways, and only work on your technique?
I have found my own style of painting and I love to work in my style only. I paint whenever there is an inner feeling of doing so.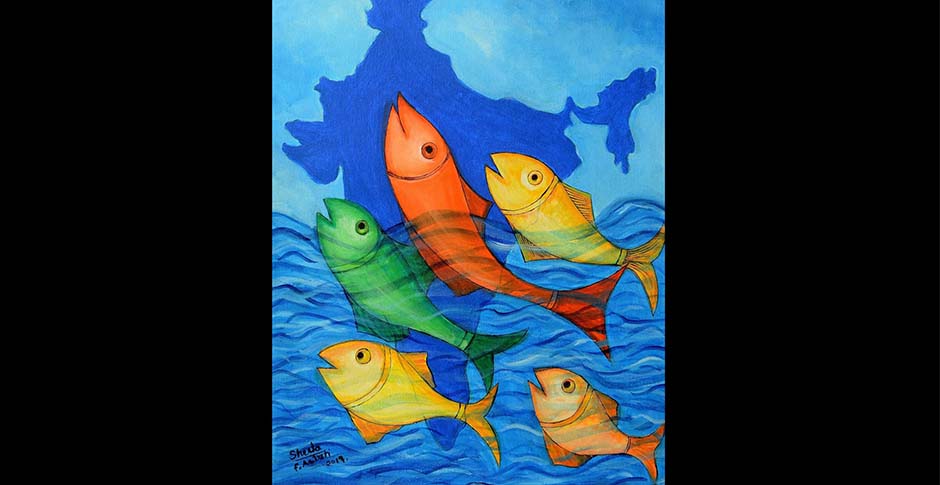 Did you approach Indian Foot and Mouth Painters Association and asked it for help and offered it your paintings or they contacted you and offered you an assistance?
I used to work in Lalit Kala Kendra after completing my education. My article was circulated in India today and I came to know about MFPA through my friend who is also a foot artist. In this way, I came to know about this organization.
How does it work between you and association? Do you have to apply for membership and supply them certain amount of painting per year to get some financial help or it works other way?
Yes, we need to apply for membership and submit our paintings regularly to our head office on a yearly basis. We get a stipend on a monthly basis as well as a bonus for the artworks selected for sales.
Do you think, your disability helped you to see more of a world, meet more people and become better and enriched person who you wouldn´t be if being an able-bodied person?
I always had an interest in arts right from my childhood. I always wanted to excel in the arts. If it hadn't been painting, maybe I would have become a singer. I love to do anything related to the arts.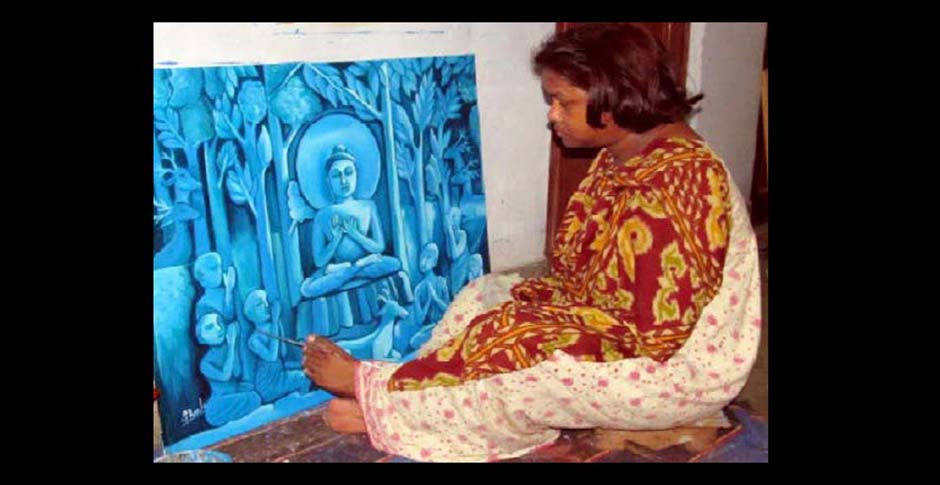 Did you have any exhibitions outside India?
No, I have never done any exhibitions outside India. I once got an opportunity to visit Singapore in 2012 and have done a workshop in association with MFPA. I would love to do exhibitions outside India if I am provided with an opportunity.
Thank you very much.
2021