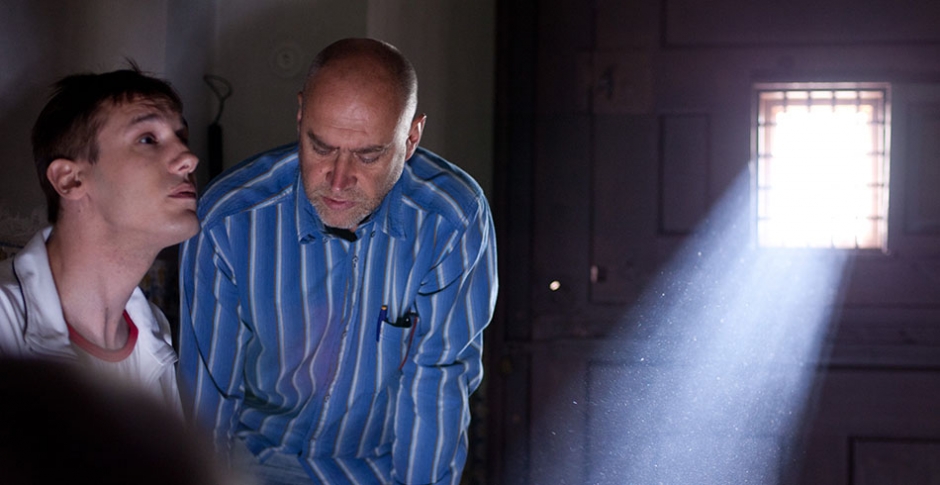 Polish director Andrzej Jakimowski (1963) is an interesting man. So far he directed 5 feature films but all were different and all had deep meaning. Obviously some of them didn´t go down well with Polish public, since it kind of put the mirror in front of Polish society, into which they didn´t wanna look. He was the guest of Letní filmová škola in Uherské Hradiště so after his film Imagine, we asked him for interview.

You studied philosophy, what did you want to be in your life?
I started studies at a University because otherwise I would have to go to army. I did not intend to become a philosopher. However, I met wise people there and it changed me. Since that time I'm always ready to discuss what is the truth or what must be a nonsense.
What made you change your mind and become a director? You obviously like to think about life and its meaning, so did you realize that in film you can make your ideas and views more publicly visible and create discussion?
As a teenager I was an amateur filmmaker and since that time not much has changed despite studies at a film school and shooting professional films for TV. I love moving pictures.
You write, direct and produce your films. Is it because of your will to be independent or because you have deep topics which potential producers may not consider to be box office hits and you wouldn´t get the money from them?
Both things.Like every amateur filmmaker I take the advantage of shooting whatever I want. I do it only for a pleasure of making moving pictures my way. I'm happy when other people like them too but I don't need to compromise for commercial reasons.
All your films have topics which make people think-children´s world, problems between kids and adults, world of blind people, nationalism. Is it your mission to create these films rather than say, comedies or thrillers, or you mirror in them your personal experiences or feelings which you want to make publicly aware?
All my films are directly inspired by personal experiences. I made SQUINT YOUR EYES after death of my mother. It was as a kind of answer to questions of my daughter, who was 7 at that time. I made TRICKS after death of my father. A picture of a boy playing with the fate was a consolation for myself. I made IMAGINE to depict my most interesting experiences in dealing with fiction and truth. Writers, like philosophers, must often deal with both matters. ONCE UPON A TIME IN NOVEMBER was a kind of eye witness testimony.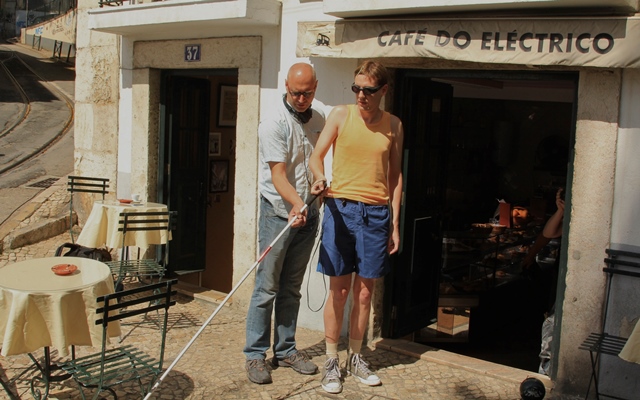 We really liked your film Imagine. What brought you into the idea to make such unusual film? We believe that bottom line of the film was to have own imagination and fantasy and dream and create own world and live life to full despite being blind. Are we right?
It always strikes me that we can find so much truth in the fiction. Sometimes fiction reflects the truth even better than real observations. Redundant or trivial observations may say nothing while fictional model may say how things really work. Imagination is the greatest power of the human mind. That's funny but I experienced that even during writing a script of IMAGINE. Having heard about Stevie Wonder or maybe Ray Charles who move on the stage better thanks to the sound of their shoes, I wrote the first version of the script about a blind man who is able to hear echo of his shoes so good that he moves freely on the street. After that I read an article in the newspaper about blind boy, Ben Underwood, who was doing so in the reality. However, Ben was walking bare foot. He was tongue-clicking in order to produce the sound like bats or dolphins produce sounds in order to navigate up to the echo. After research on echolocation as a technique for the blind man, I wrote the final version of the script. In the film Ian uses both shoes and tongue for echolocation what is a mixture of truth and fiction, it doesn't matter. In this case I have invented the truth before I read about it.
Did you yourself undergo some training blindfold to get some idea of what is it like to be blind and not to do silly things in your script?
No, I haven't. Edward Hogg has been trained by a blind expert, Alechandro Navas. They walked along streets of London for 2 weeks. Echo-locating blind Alechandro leading blindfolded Ed or the other way round.
Main character-English actor- was very realistic. How long did he have to learn all aspects of blindness to be perfectly "in-role" Was he your straight choice or casting list was long? Didn´t you want to hire real blind person?
There were many blind actors in main roles. First of all Melchior as Serrano and all kids. Some of them were naturally echolocating, for example Tiago.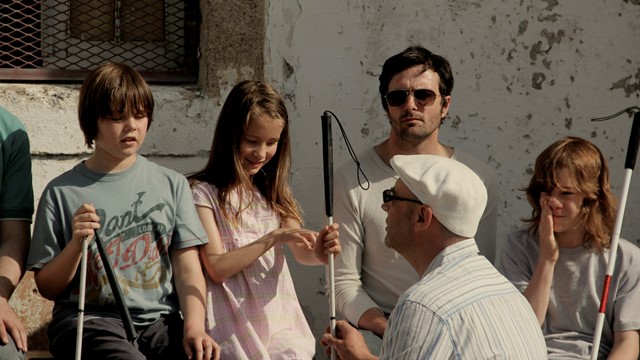 Did you work with some doctors or experts on sound resonation or you studied that topic extensively before filming and then did all coaching yourself?
I made the research myself. Then I consulted the script with Henryk Wereda who is a blind man teaching blind kids in Poznan. His experiences were almost the same as Ian's, by the way.
We believe that other people were really blind. Who were they, was it difficult to get permission to work with them and was it difficult to tell them how to move not to go "outside" the picture?
There were English, Portuguese and French kids on the set. The English Court gave us the permission for the English a few days before shooting. The procedure was easier for the French and the Portuguese. Moving and staying on the set was a challenge for all of them. They were absolutely great and very creative in dialogues and situations.
How does it work with getting the idea for future film? Do you just read a lot, observe a lot and then something is "born" in your mind what to do or you just voice your views at certain things in society that you find interesting or that piss you off?
It is easier for me to say a story about things I know from experience. To some degree all my films say about my relatives or me myself.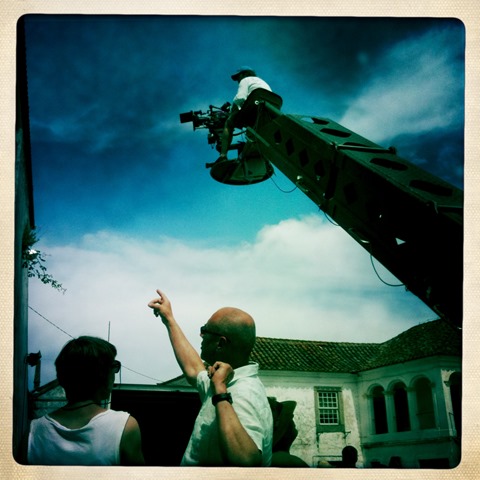 Once in November shows dark side of Polish society. Film wasn´t well received by audience. Do you think people don´t want to see this real picture of Polish society or they are scarred to admit that they belong to it and someone put a mirror in front of them?
You are right. However, some people come to me after the screening with tears in their eyes and say "thank you". It happened in Warsaw with people who have had the same experiences as my characters. In other cities many people were moved. For me it was a very good reception. Of course many people were angry with the picture or ignored it.
Did you finance that film by your company or you got some money from Polish Film Fund or from Culture grant?
It was a cheap film. We shot it in 24 days between 2013 and 2016. Our company was financing the film until 2016, then we finally found co-producers and we got support from Polish Film Institute.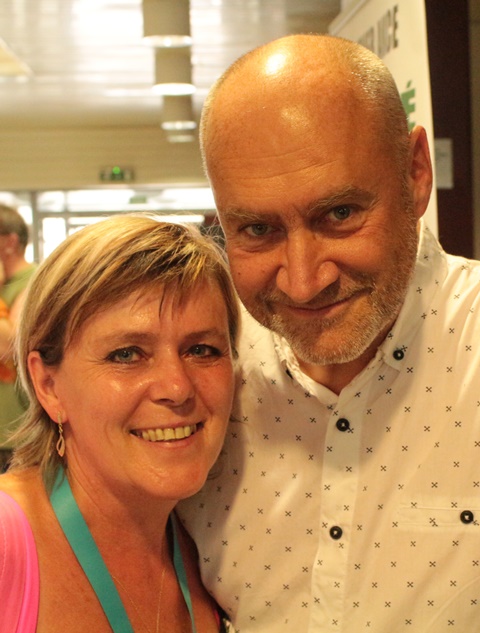 Czech film is in crisis and rarely makes any really good, deep film. What is the situation in Polish film-are serious projects in minority and get little financial support while silly comedies get more support since they are attended by people and can make a profit?
Anyway, it's easier to raise the money for a silly comedy than a wise comedy. Decision makers prefer to lose a sense of humor rather than money.
You established ZAIR. What led you to it, what is it´s aim and how many members do you have?
There are cameramen, composer, editor and producer of my first film - all my friends - who share the company. We made my next films as well.