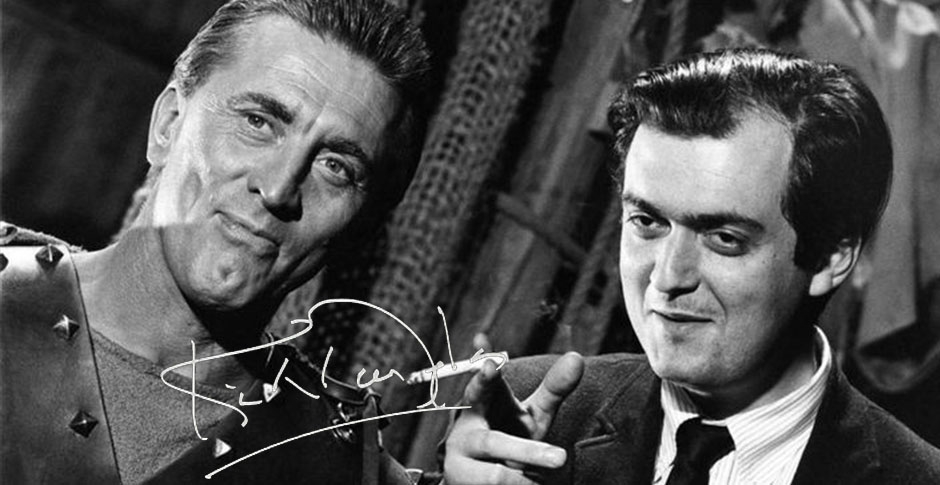 Kirk Douglas became hero from zero by his own effort and sheer determination. He hailed from very poor environment and thanks to his Jewish roots he personally felt lots of hate, malice and antisemitism in 50´s and 60´s.He never forgot that and despite his fame and wealth he gained, he stayed as a man with heart on the right side. Maybe, thanks to that he was given extra years on this Earth. He gained a lot on and off the screen and deserves a long in-depth article. We used his autobiography a Ragman´s son since we rate it as one of the best and the most honest film autobiographies we have ever read. Strange thing happened when we finished the article and closed the book. At the very evening, on other side of the Atlantic, Kirk Douglas peacefully died. Was it an omen? So our article became a fitting tribute to a great human being and a great actor.
Kirk Douglas was born on 9.12.1916 in Amsterdam in New York as Isur Danielovich Demskij. His parents were born in 1884 and in 1908 they emigrated from Russia to America.

As illiterate Jewish emigrants they didn´t have a rosy life in America and apart poverty they experienced lots of hate towards their race. Kirk´s father had a horse and a cart and used to buy old rags for few cents and tried to sell them with profit. He didn´t care much about his family and despite lack of money, he always visited a barber to get shaved every day and had a breakfast in town. He was an alcoholic who liked fights but despite that Kirk loved him and was grateful for him showing him the world of adults. Since very often there was nothing to eat at home, small Kirk got any kind of job he could put his hands on and contribute few dimes to family budget. He distributed sweet and lemonade to factory workers before he was overrun by a competition.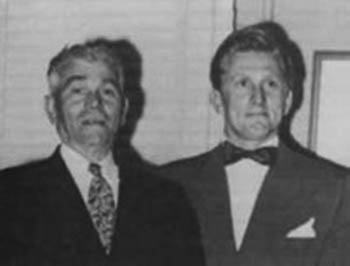 At the age of twelve he started recite poems and sing in the church. Around that time his idea of becoming an actor became the path he wanted to follow. At the same time he once hitch hiked to other city and saw a cinema for the first time. At home the quarrels became more and more frequent and it led to Kirk´s mum taking her kids and leaving home for good.
When Kirk entered secondary school, he got a helping hand from his French teacher Louise Livingstone whom he told about his dream to become an actor. Not only that she didn´t tell him off but she encouraged him to start working hard on pursuing his dream, educate himself and cultivate his personality. Thanks to her he was chasing fliers from universities and he saved every cent for the tuition. Kirk and Louise became friends and it remained through their entire life until her death. He wrote her letters even when he was a famous Hollywood star.

To earn needed money he started to deliver papers before lessons, than had a breakfast and walked three miles to school. At the first grade he won a Sandford price in competition of spoken word.
When he was in last grade of secondary school, the first lady of Broadway, Katharine Cornwell made a tour around US states and Kirk saved money in order to see her show. It was his first ever theatre performance and at that time he never dreamt about not only meeting Mrs. Cornwell personally but also sharing the stage with her in the future. At the time Kirk also upped his dancing abilities and decided to go to dancing ball. He invited a girl named Ann Brown who readily agreed but next day she told him she has to decline his offer since her parents didn´t like him being a Jew.
It wasn´t first time he heard that and certainly not the last one. After graduation he found himself a job as a janitor for 21 dollars per week. But after few days he was sacked by principal since ….. he was a Jew.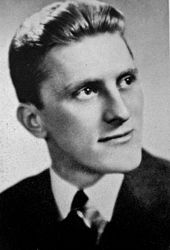 So he went to summer resort in state of New York and tried to find any kind of job, but failed. He changed his name from Isur to Izzak but it didn´t help the matter, he was always refused……… for being a Jew.
When he introduced himself as Don Dempsey he got the job but not for long since the lady owner was hostile and hated Jews so Kirk seduced her and then told her about his origin. Vengeance was sweet.
He saved 165 dollars in total and went with his friend to University in Canton. It´s dean was very approachable and when he saw that poor lad has only half on needed sum he helped him to get loans. Kirk was often hungry so he usually visited mates when they received food parcels from home. Older students were bullying young ones and they ordered Kirk to recite Shakespeare which didn´t matter him one bit. He was invited to university fraternity Alfa Tau Omega, but when it was clear he is a Jew, his membership wasn´t void. Kirk desperately wanted to belong somewhere but permanent rejection due to race hatred left a big scar on his soul. He started to exercise heavily and became good in wrestling and thanks to that he finally gained some respect. He was a good student and was only one subject short of getting teacher´s qualification but he didn´t want to have a safety net in case his acting career fail and he wanted to give acting a full throttle so didn´t attend the exercise. In third grade he was elected as a president of Student board and even as a Jew he won by big margin.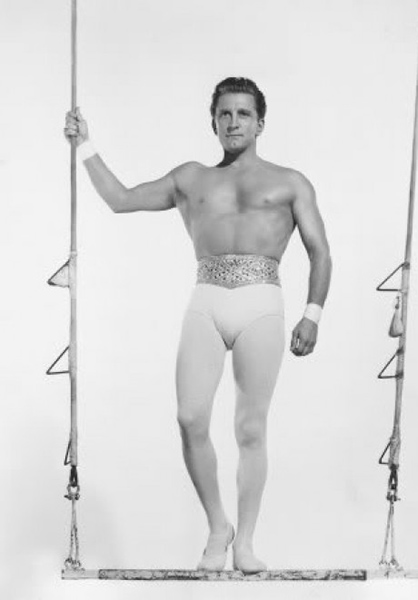 His first dramatic school was wrestling in amusement park. His mate was big fella who gained respect and all males in the audience were afraid of him. Kirk was always last time "volunteer" and they " played up" the fight which Kirk always won.
After that he left for Tamarack theatre and worked as wings man. It was here where he met young and up and coming actor Karl Malden. Kirk left to New York and tried to get to American Academy of Dramatic Art.(AADA). He was marked as a talent but they didn´t provide tuition so he had to keep on searching and got a job for bed and food on Greenwich House, where he was to prepare dramatic scenes for emigrants´ children. His lust for acting career for so big that he couldn´t wait for graduation which became a reality in June 1939.He approached different acting school which provided tuition but within few days he got a letter from AADA that they found money for him so he had to thank the other university but that understood his decision.
AADA was two year´s school and in first grade they were taught dumb show, stage expression, actor´s costumes, voice exercise, make up and fencing. In second grade he already worked in performances which were showed on small theatre stages.
When the work with emigrants finished, Kirk was again jobless and homeless. He then befriended Peyton Price, who worked at a university as an assistant. He let Kirk stay with him for two months and when he wanted to repay Peyton´s kindness, he told Kirk
" You owe me nothing. I was helped by others so I paid them their duty, now it´s your turn to help somebody else".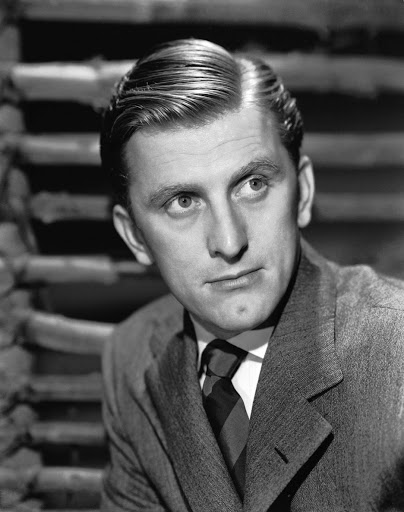 Kirk later recollected that:
"Later on when I wanted to help somebody I always felt I am paying off Peyton. The person I helped owed that kindness to somebody else, great philosophy." (Similar like in the great film Pass it forward, filmed 60 years later V.F)
Thanks to a good friend Kirk found the job in restaurant where he got tip on night shifts. When the guests left their meal, Kirk and other mates could finish it off, which solved Kirk´s problem with empty stomach.
He survived first grade where 80 out of 160 students dropped out. His teacher was certain Charles Jehlinger who also taught likes of Spencer Tracy, Katherine Hepburn, Grace Kelly, Anne Bancroft, Jason Robarts and others. It was tough and did little to up Kirks small self- confidence. He graduated at the AADA in June 1941.On the last performance in the university usually went agents of various agencies and tried to spot the talents, but Kirk was left unnoticed, so again he had to go around |New York and find agencies. Kirk only faced hypocrisy and lack of interest. When he was accepted by boss of small agency he had to prepare a small sketch with his female partner. They started performing and the phone rung, the boss lifted receiver and talked to other person on the phone with cigar in his mouth paying no attention to Kirk´s effort. Kirk suffered humiliating every day. He recalled those days"
"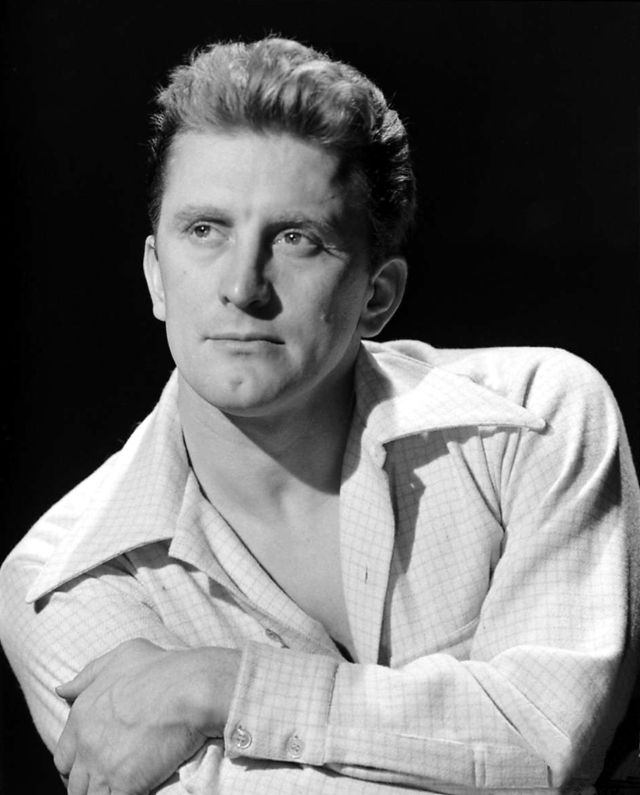 This is the dark side of our job, non- stop rejection. It ruins us and shake-off our self- confidence. Those hurting feelings are ever present .And what amount of wasted effort is hidden behind that. One thinks he is just a tiny bit off the role and constantly calls somebody and asks. He is assured countless times that the deal will be done and all is good but it the end the role goes to somebody else. It is very humiliating. I warned all my sons to avoid film business but as it can be seen it failed. But I am convinced there is only way how to get close to our profession, one simply has to go that way, he must become and actor there is no other way"
Feeling of humiliating and rejection is ever present in Hollywood
No agency took Kirk under their wings so he was jobless once more. In desperation he accepted an offer from summer theatre for 25 dollars a week. He started with jack of all trade jobs on stage and with little cameo appearances he crawled through to starring role. After the end of the season he left for New York and visited agencies again. He got small part on Broadway in Booth Theatre. He ended up as director´s assistant and also learnt four stand roles and worked in the office. During premiere Lauren Bacall called in and liked the Kirk´s performance and told him so. As Kirk said" it was one of the nicest days of his life"
Then came Pearl Harbor and America was trapped in the war and actors created special units, and entertained soldiers. But since Hitler wanted to exterminate Jews, Kirk didn´t want to entertain soldiers, he wanted to drop bombs on Germany so he wanted to go to Air Force. But he failed psychological tests and for air force was too old in 25 years of age, too rational and too mature. So he returned to theatre and instead of travelling USA with small theatre group he opted for staying in New York and playing very little part in Three Sisters from A.P. Tchechov. It was repeated 122 times and he was playing with famous actors so tried to pick up anything from them. But the will to fight didn´t desert him and he applied to Navy and was drafted. Once he spotted an actress Diana Dill on the front page of a magazine and told his mates" I will marry this girl". He kept his word and married her on 2.11.1943.Only Kirk´s war effort was damaging the rudder of his own ship and he was discharged and became the father of first son Michael.
Now he had to feed three hungry stomachs so again tried his luck in agencies. He was in two minds- go to radio, not be seen but get regular salary or go to theatre where he can be spotted but during rehearsals and preparation he takes no salary. Here comes premiere, some New York Times critic writes bad critic and the show is finished by next evening and again no salary. But Kirk was desperate to get to theatre and now the luck showed him his kinder face. He got a role on Broadway´s play Kiss me and talk where he replaced Richard Widmark. The play was played for over a year and it led to another offers. Again came Lauren Bacall who recommended Kirk to director Hal Wallis and he offered him a part in his film Strange love of Marthy Ivers. Kirk wanted to be a theatre actor not a film one but since he has no other job he accepted a role. So he got an agent, signed the contract to 20th century Fox and off he went to Hollywood. He was welcomed typical Hollywood way- he didn´t get the role. He got a smaller part of alcoholic which disappointed him but still it was a job. Only up until the time he realized he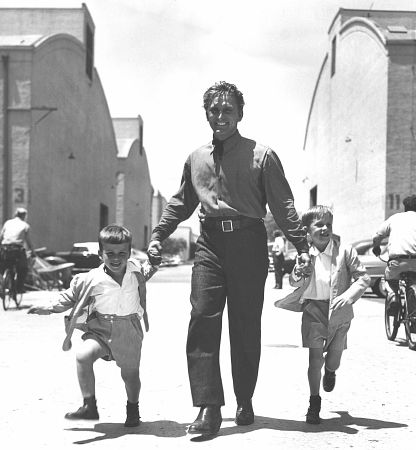 had to go for casting with four other young actors such as Montgomery Clift or Richard Widmark.
He got the job and first day he was awaited by studio limo. When they came to studio gates there were strike patrols everywhere and they got into the studio with police escort only. He was a theatre actor and had no experience with film, camera, didn´t know where to stand, where to look. But he was helped by main character Barbara Stanwyck who gave him precious advices and was very friendly. Kirk really appreciated that and remembered that and when he was already an established star and was playing with novice he always made mistakes to have to make further takes and it helped young actor to relax. He always tried to help young, eager actors, since he knew the feeling of being hungry to show the potential.
As filming went on, more and more studios went into strike, Warner Bros, Universal, RKO and then Paramount. As newcomer Kirk felt guilty and as a scab but there was little he could do. Had he raised a voice he would have been sacked. When the strike was finally ended he could meet his wife and son and take them to posh LA restaurant,. He made reservation for 8 p.m. and got there in time. He then was sat at the bar to wait for free table where Kirk observed new guests came and left and he was still left in the bar. He was new and nobody knew his face. When he finally grabbedthe waiter under his neck, he got the table at 9 p. m. Welcome in Hollywood.
When the film was finished Kirk went to his agency and asked for further job. There was nothing for him so he told them, if they don´t find anything for three weeks he will look for theatre play. Meanwhile he went to see the agency boss Charlie Feldman. He left him waiting in the anteroom and while others came and went, Kirk was still left alone waiting. At 5 p.m. secretary calmly told him, that boss is so busy he won´t have time for him today. So Kirk made another appointment with same result and it went the same way for five further days. When he was finally waved in, the boss gave him a hard time "who the fuck you think you are". During those waiting hours Kirk met Sam Norton and they became good friends afterwards. Kirk called to New York that he is interested in theatre play and left LA. Thanks to that he lost his flat since living situation after the war was still very grim in LA.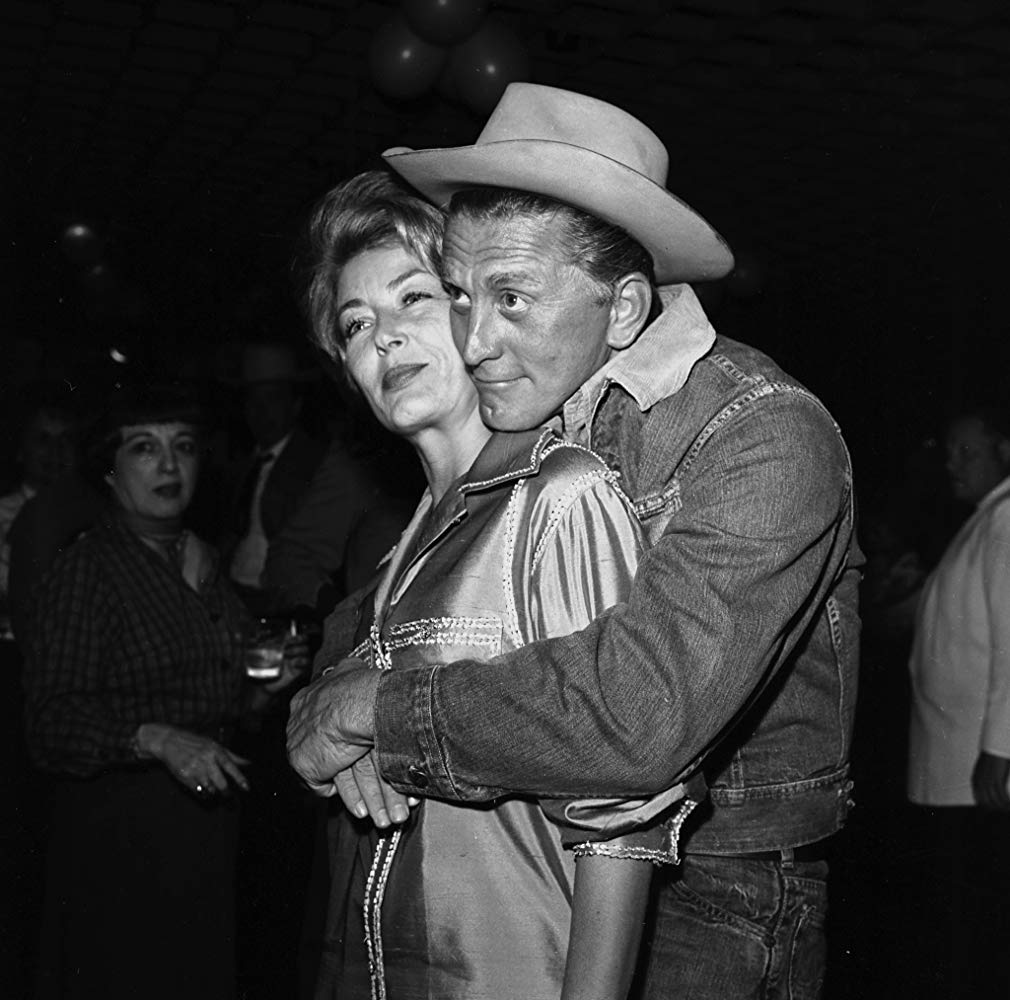 The play which he got into in New York was called Woman bites dog. They toured for a week with it, had its Broadway premiere and within a week they wrapped it. It marked the line on unsuccessful efforts in Broadway for Kirk which never deserted him. It is interesting that he didn´t want to be a film actor and became a star and he wanted to be a good theatre actor and never really made it.
Since he didn´t have a job, he returned to LA and started to build a house by himself. Then he got a call from Hal Wallis who offered him a leading role in a movie called Walk alone .His partner was young Burt Lancaster and the two formed a friendship which lasted the whole life. After this film a director wanted to sign a seven years contract with him but Kirk was hesitant. Although it would give him financial security, he felt it like slavery. At that time he became a father of son Joel.
To earn money Kirk played in bad films which he didn´t like. Once he was trying to solve a dilemma- play in film for MGM The Great Sinner where he would play alongside Ava Gardner and Gregory Peck or accept a part in film made by small independent company. The film was called Champion and unknown Stanley Kramer acted as a producer. Kirk chose an independent film for which he got 15 000 dollars and turned down big studio offer for 50 000 dollars. Everybody though he is a lunatic. But he listened to his instinct and loved the way they worked on film Champion, they sat in his house, ate sandwiches and everybody could chip in with his idea and they talked about them. It was shown on the final result and Kirk Douglas finally broke through.

Sadly the differences between him and Diane grew bigger and bigger and they parted and later divorced. It was Hollywood so Kirk was chased by tabloid journalists who were more interested about his family life than the film he just finished. Kirk thought about it and was wondering what would have happened had they returned back to New York but came to conclusion that they would divorce after all since Hollywood brings out the worst from the people, not the best.
To stay sane in Hollywood is the great success
He pointed out to this: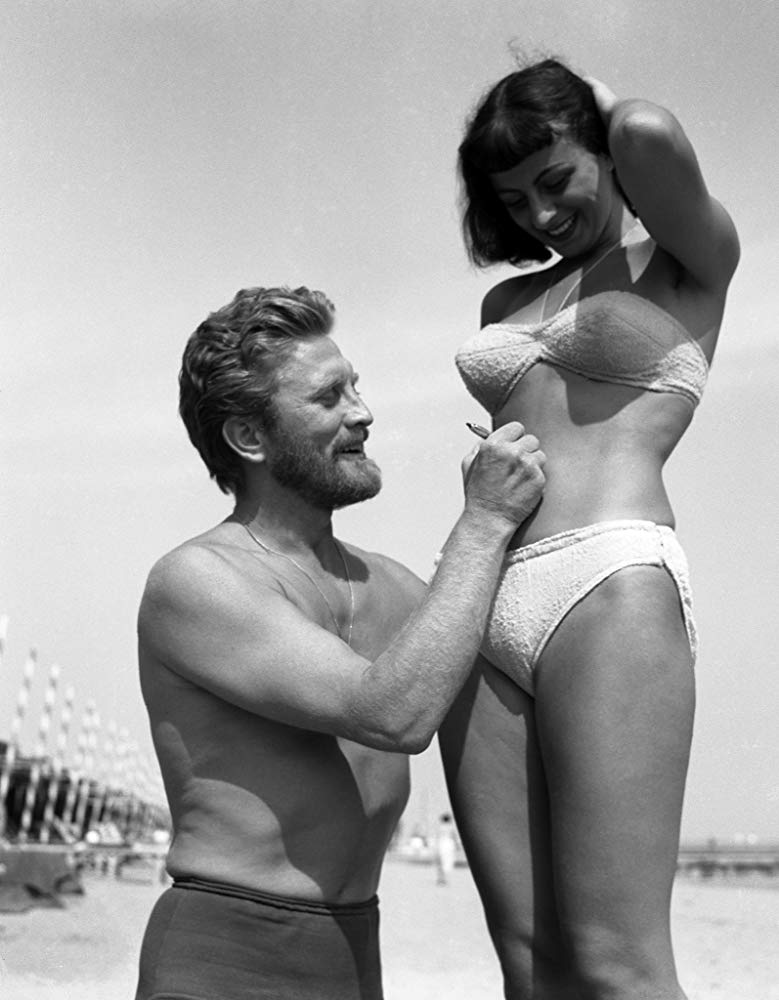 "In Hollywood everybody is glued to success. Once somebody is on the way out from fame, he is left alone. This town is permeated by terrible insecurity. Hollywood is like a crammed streetcar into which hop new talented actors and actresses and push onto other passengers. Those who lose their siting places try to stand and hold the bar at least with one hand. But the pressure is so powerful that wave of new talents push them to the door and then they jump out. To stay sane in Hollywood is a great success. People change a lot after they arrive to Hollywood, it´s difficult to adjust to it now as it was forty years ago. It is town where Cliff Robertson revealed that David Begelman is a counterfeiter and criminal with the result that Begelman got standing ovation in one LA restaurant while Robertson was put on Black list for four years. It is difficult to get friend in Hollywood, it is vicious, unhappy town and cope with success is maybe harder that cope with loss."
Even outside film the Los Angeles had very strange moral. There was the biggest and the richest golf club but didn´t allow Jews, black people or anybody from film to get in.Once in a while they allowed Jews to enter as special guests but only because club would be freed from tax payment.
Then came 50´s and Witch hunt of Senator McCarthy Hollywood was no exception since it was taken as a place where communist propaganda could be spread on wide scale so all actors, screenwriters and director were looked upon with deep focus. To get on the Black list, one didn´t have to be formally accused, to have whole career completely wiped out was enough to be just mentioned in the press. No one was sure who could be the next victim (how familiar to America of 2019 –V.F.) After the success of Champion Kirk was called by Charlie Feldman, that Feldman, who let him wait in the anteroom for five days. Now he invited him for dinner and later took him to the house of Jack Warner. He acted as his agent and next day merrily told Kirk he got a new eight year deal for him. Kirk wasn´t merry at all and later admitted"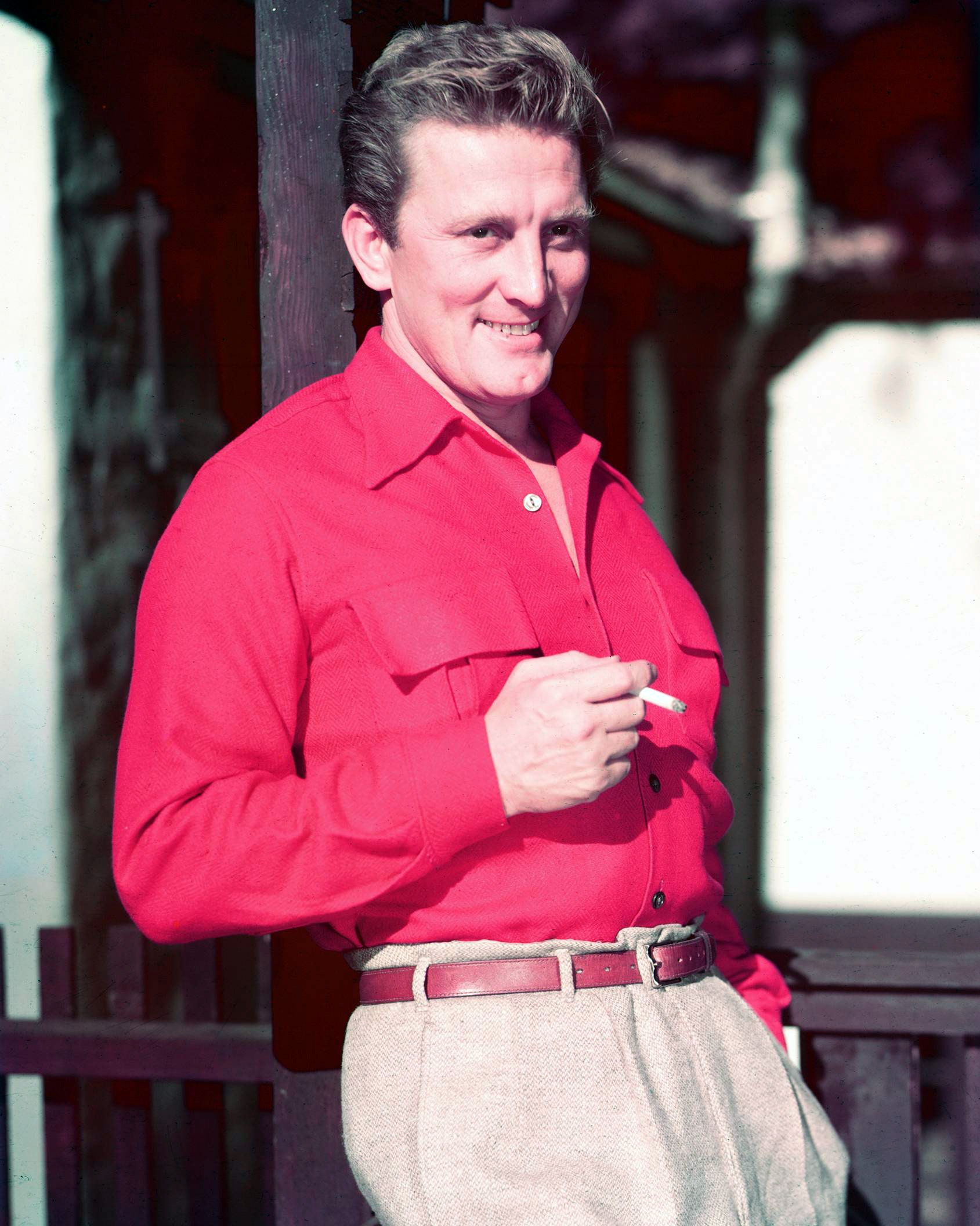 "Studios were corrupted, they used actors, directors and screenwriters. All their deals were strange. Agents paid by actors to represent them were kissing the studio arses. When I came to Hollywood as a rookie, standard seven years deal had all reservation in studio favor which was almost like slavery".
At that time Kirk lived alone and many famous women swapped places alongside him- Joan Crawford, Rita Hayworth, Patricia Neil and others. He decided to accept draconic studio contract. He also made Ace in Sleeve with Billy Wilder about greediness of tabloid press. It had negative reviews in print. Critics enjoy criticizing but don´t like being criticized. Billy Wilder addressed them these words" Look at yourself that is YOU, people who stand and stare when something unfortunate happens"
Film became a classic movie of underground. Kirk hated further films he had to make for Warner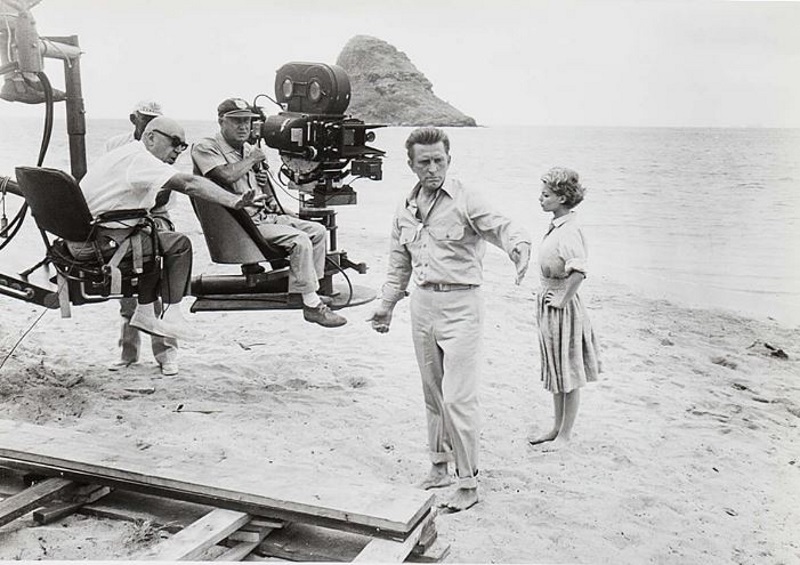 Bros.He wanted to void the contract so went to agent Charlie Feldman and offered him that he will make next movie for free if Warner Bros will release him from the contract. Greedy studio agreed on that and put him into movie The Big Trees. To save even more on expenditures that used some footage from previous film and obviously the final product was a trash. But Kirk was free. He hired a new agent Ray Stark and made films according to his own choice. For next movie The Bad and the Beautiful he was nominated for Academy Award for second time. First nomination was for Champion but Kirk failed to receive it.
He commented that" If Oscar is competition in popularity, as they say, I was never popular since I never received that. I was surprised since somebody considered me to be an ambitious bastard"
Douglas´ right hand and his best friend Sam Norton advised him to stay and shoot in Europe for tax reasons which Kirk did.
He made movies in Italy and Israel. After return to America he had to make few contractual movies and one of them was Man without Star. It started new direction in financing the films, it was split fifty /fifty. Main character didn´t get salary but when studio covered the expenditures, he got 50% of the profit. Kirk admitted"
" It looked perfect, it was perfect……. but for studio. I made some money but Universal made tons of them. Since that time not much has changed. Not long ago I have read that a movie with Bette Midler and Danny de Vito called Ruthless people earned worldwide 90 million dollars. But the way Disney accounted that it finished 11 million in loss"
Kirk had enough of that shit and decided to form his own production company Bryna, which produced his own films and gained him control over them. One of the first films he made for himself was Lust for life. He got so much into character of painter van Gogh that he had difficulties to step out of it. In November 1955 his second wife Anne gave a birth to third son Peter. His middle name was Vincent, according to van Gogh. Another movie was classic Gunfight in OK Corral. It was made according to real incident in 1881 and he hired his friend Burt Lancaster.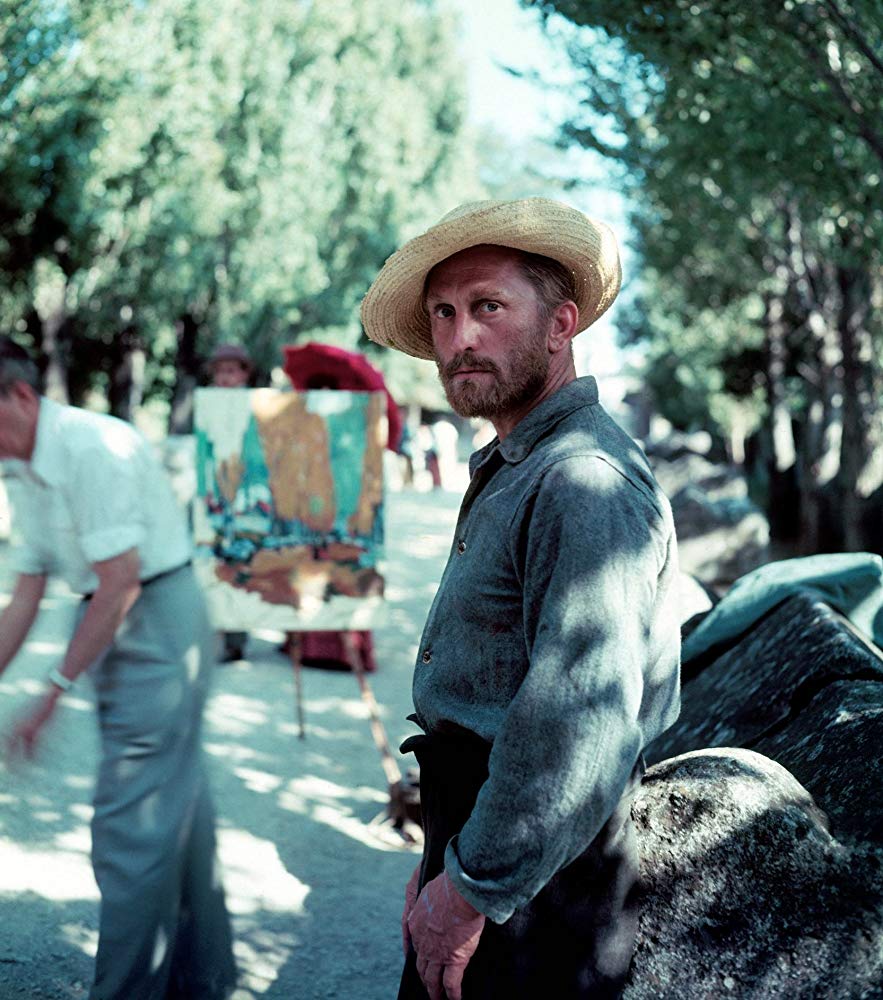 After watching a movie Killing made by young director Stanley Kubrick Kirk got interested in him since Stanley owned a script for Paths of Glory which all studios permanently refused. It was a story of big lust for glory among top brass in French WW I army. When Kubrick lent him a script Kirk fell in love with it. He returned it with words
" Stanley I don´t think we will make much money if any, but we have to make that film"
Douglas obtained 3 million dollars and they went to shoot to Germany. Meanwhile Kubick re- wrote the script and showed it to Kirk. He was horrified and asked him why he has done that
" I want to make commercial film to make money" replied Kubrick. Kirk got furious and warned young director that if he doesn´t put the script back to original version, there won´t be any film at all. Kirk was starring in one of the most important films he has ever made. But Kubrick acted strangely afterwards and he announced that Kirk was only his ordinary employee and not a producer.
As expected film didn´t make any money since it was banned in many countries. France threatened to withdraw from Berlin Film Festival if it is showed in cinemas. Switzerland wanted to confiscate all film copies and as well as France didn´t allow the film into cinemas for further 30 years.
After that Kirk bit even bigger chunk and started working on Vikings.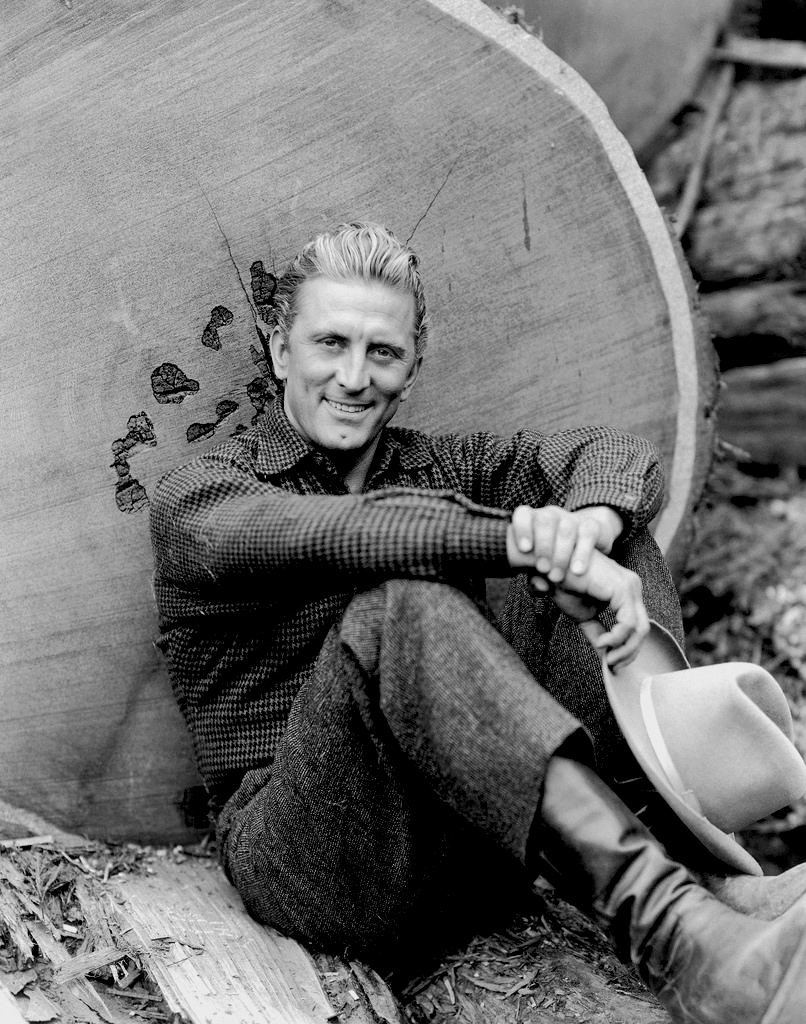 He hired history experts from Norway, Sweden and Denmark and wanted to create exact atmosphere of Viking era. Shooting was going under hard conditions and to gel whole crew together, Kirk organized a big party. Following day Norwegians went on strike and demanded more money, even though they earned more than usual European standards. Kirk got very angry, he found out if remaining shots can be done elsewhere and packed the whole lot. Norwegians backed up and said they will work for same money but Kirk felt betrayed and didn´t budge an inch. The rest of the movie was made in Münich.
All his financial matters Kirk put into hands of his best friend and his right hand man Sam Norton. He believed him immensely, invested where he was told to invest, signed what Sam told him to sign. He had no doubts but his wife did and she kept on asking Kirk where are his money and how much does he have in bank. Kirk got irritated but when he pushed on Sam, he realized his wife had a sixth sense-Kirk was broke and penniless - since Sam transferred all the money through his companies, didn´t pay the tax and always made up the contracts that he got the money and Kirk was working for nothing, without him knowing that. He owed tax man 750 000 dollars.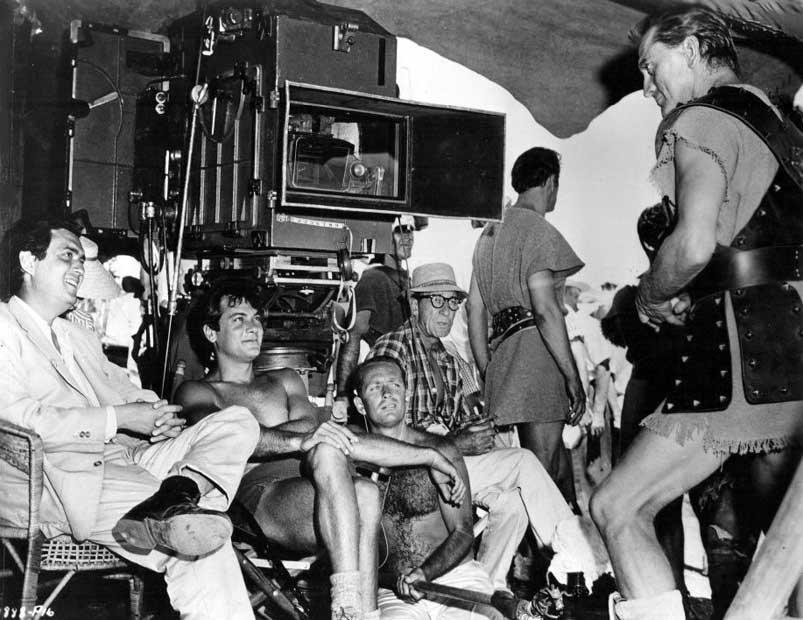 Film Vikings had its premiere in May 1958 and it was a big hit. Thanks to that Kirk could pay all debts to tax man and keep the rest. Soon after that his fourth son Eric was born.
Further project which caught his interest was Spartacus. He bought the rights but big problem occurred since United Artists had a contract with Yul Brynner for the film Gladiators and didn´t want to participate on two similar big budget movies. Troubles with the script started.
Kirk asked Dalton Trumbo to write a new one. It was the end of 50´s and it was Witch hunt led by Senator McCarthy. Trumbo was on the famous Black list and couldn´t work, well at least not under his name. Among those who reported him and other people were Gary Cooper or Ronald Reagan, now actor, later a president. Ten people were sent to jail and Trumbo was one of them. Even after ten years he couldn´t work even though McCarthy was dead for three years, Black list still existed. When Trumbo got the Oscar for the best script to the movie The Brave One which he penned under the name Robert Rich, someone else had to pick up the trophy for him. Kirk commented that:
It was hypocrisy of the biggest caliber, whole Hollywood knew what is going on"

Since banks were paying their staff to report anybody with strange payments or behavior, Kirk had to make complicated transfers to pay Dalton for his work, since his script was exactly the one he wanted to have. He hired top actors such as Laurence Olivier and director Anthony Mann. Shooting was to start on 27.1.1959.After two weeks it was obvious that Mann is not up for job, so Kirk paid him agreed sum of 75 000 dollars and released him. He remembered Stanley Kubrick and called him. During the weekend they went through script and started filming again on 16.2.without a single wasted day.
When the movie was finished they were talking about what script writer´s name put into subtitles. Kubrick" modestly" admitted, why not his, which really made Kirk angry. At that moment he knew he will put Donald Trumbo name there. He also called studio to make him a pass on that name and after ten years Donald could enter studio again. He gratefully thanked him for his support and Black list ended that way. Thanks to brave act and determination of Kirk Douglas.

Kirk wanted to have a premiere in Rome during Olympic Games in ancient spa but since Italians were unreliable, he opted for New York in October 1960.American legion sent 17 000 letter to post offices to warn people and not to go and watch Spartacus since it was written by blacklisted Trumbo. Film was a terrific success and became the movie for which the Kirk is best remembered. Strangely Kubrick didn´t want to be tied with the movie and asked Kirk to release him from their contract.
Since Kirk was often accused of poking his nose into director´s business he decided to take directors hat by himself. He did it twice without success and that was it. He became interested in a novel One flew over the cuckoo nest and he want to make adaptation for Broadway, but it was flop again. He sent a book to Czechoslovakia to Miloš Forman but he never received the copy since Czech secret police confiscated that. Miloš thought Kirk forgot his promise, Kirk was annoyed that Miloš even didn´t bother to thank him so arms were laid down after many years during personal meeting. Kirk let his rights to son Michael, who became producer and hired Miloš Forman. Movie was a great success and won many Oscars, something which eluded Kirk.
When he was a president of jury on Cannes film festival, the jury agreed that two films get tied on first place .All that Jazz by Bob Foster and Kagemusha by Akiro Kurosawa. Few hours after the jury meeting president of the festival visited Kirk and demanded he would sign a declaration that French movie Uncle from America is also joint winner. Kirk refused that only to be told that director already informed journalists on the press conference where Kirk wasn´t invited. It was another stab to Kirk´s back.
Kirk Douglas was a fine man with strong moral rules and his example could and should be followed by many today´s actors and director. He called spade a spade and never back up.
Once he said" you can give prices to cows for milk yield but I don´t think you can give prices for art."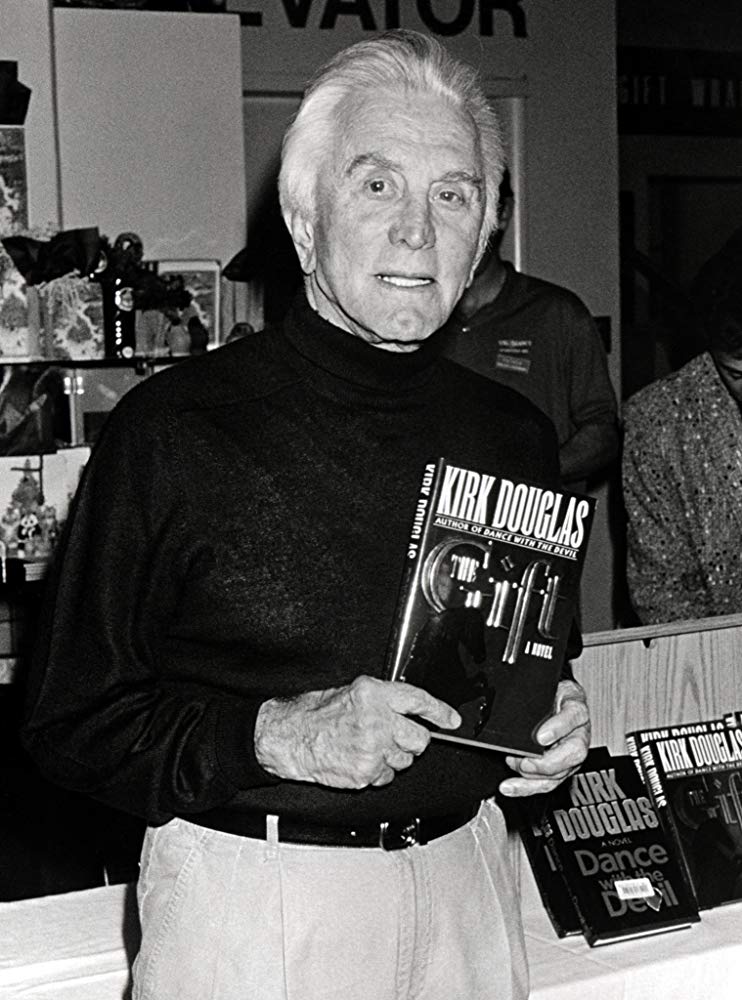 Kirk Douglas died peacefully on 5.2.2020 aged 103 years He may have not been the greatest actor of all time, but he was a symbol of an era which disappeared with him. He will be sorely missed. Thank you Kirk. R.I.P.
Photo: Kirk Douglas, Imdb.com, Wikipedia, Pinterest