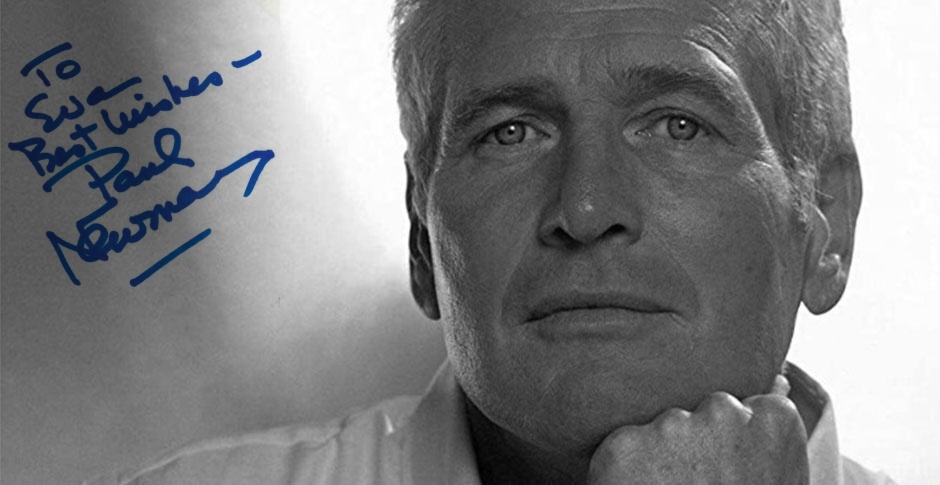 We had many reasons why we decided to make this tribute article about legendary film actor Paul Newman. This year he would have celebrated 95th birthday (was born on 26.1.1925) and as it is written in his biography, he was a man of his era which spanned from WWII up to times of digital films. His career has lasted for over half a century, and he was ever present in film studio, theatre seminars and racing tracks. Everything he did, he did at 100 % and genuinely. When he made a film, he concentrated at his role, when he was racing, he wanted to be the fastest and to win, when he set up his business he dedicated all profits for charity and gave away over 400 million dollars. He was determined, courageous, humble, compassionate and fair. He was real man, who called spade a spade and stood by his opinion which he wasn´t scarred to voice loudly. He was REAL film star, idol of many generations. World laid by his feet but he took only very tiny bit for himself and gave back much more. We want to offer comparition between him and current generation of actors, who are made stars by media after two financially successful films and they don´t know what to do with money, spend them on many luxurious mansions and cars.They say their opinion but are willing to void it and appologise if it could endanger their career in current political correct era.Some of them don´t know if they feel like man or woman and that is why Academy is said to void category "actor" and "actress" and replace it by unisex "performer". Newman didn´t like ostentatious behavior and missed many Academy Awards ceremonies and rather went racing or watched TV at home.
Already at school Paul was self-conscious, bashful, modest and self-critical. At the age of seven he started to play theatre performances and in 1936 he debuted in play called St. George and the Dragon. His father owned a company Newman-Stern, which was selling sport gear and was one of the few which didn´t fold after New York stock market bankruptcy. Paul used to help father in the shop, and was his obvious choice for taking over the business when right time comes, but he was more interested in theatre. In January 1943, he started to attend University of Ohio where he also played theatre. Shortly after his 18th. birthday he went to war. He wanted to be a pilot, but doctors discovered his colour-blindness so he became a tail gunner on bombers. After discharge in January 1946, he returned to university, this time Keynon College. Before he left, he played in nine theatre plays, including Čapek´s R.U.R.
After leaving university in December 1949 he married Emily Witte and intended to earn money as an actor but big blow hit him, when his father suddenly died. Paul had to take over the shop and he became a father for the first time, so it all looked as if his acting career is truly over before it even started. Thankfully, he managed to sell the shop and headed to Yale university to study dramatic art. To help family budget, he was selling encyclopedias.
New York agents used to visit university performances and in 1952 Audrey Wood and William Liebling spotted handsome young Paul.These two agents had Marlon Brando, Elizabeth Taylor or Montgomery Clift in their books but Newman didn´t want to follow the paths of some Hollywood actors, sit home and wait for call, he intended to actively seek opportunity. So he took his family, moved to New York and started to work hard on his career.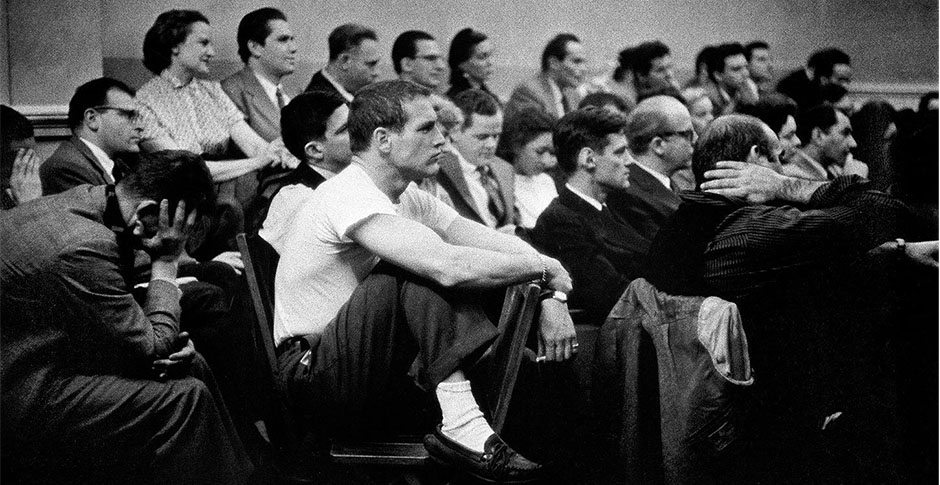 After few small bits in TV he became a client of big agency MCA and since TV was new, fastly expanding medium, he got more and more opportunities. He was paid 50 dollars a week, and had to work hard since his wife was pregnant again. At that time, he heard firstly about Actors Studio where the Method was taught. Paul intended to get there. On seminars he used to meet future actors Karl Malden, Rod Steiger, Ellia Wallach od Sidney Lumet.Later on Paul used to remark: "All I know about acting is thanks to Actors Studio."
An agent got Paul a small part in Broadway play called Picnic. It was here where he met young actress Joan Woodward.With this play he went on tour around USA and when it had it´s premiere in New York in February 1953, it had success and received positive reviews which included young Paul, too. It had 477 subsequent shows and Hollywood pricked up it´s ears. Studio Warner Bros signed him for 1 000 dollars a month with 10 weeks´ work annually. Then he got a small part in a movie called The Silver Chalice. Paul liked to discuss about character and script as he was taught in New York, but it wasn´t welcome in Hollywood. When the boss Jack Warner came to watch the shooting, he told Paul to shut up and just do as he is told. Film was terrible and Paul was traumatic about his performance and he went as far that when movie was shown on Los Angeles TV in 1963, he put an advert into local papers in shape of obituary excusing viewers to ruin their evening.
He accepted roles in TV episodes and also in theatre to build some self-confidence and Lady Luck struck again. The movie called Somebody Up There Likes Me was in preparation when main star James Dean got killed and his part was given to Newman.Movie was a prodigious success and Warner Bros started to flood him with scripts. Paul broke through.
Everything I know about acting I know from Actors Studio.
During shooting in New York he spent more and more time with Joan Woodward and since he felt guilty, he decided to leave his wife. He got divorced, and within a week he married Joanne who was already pregnant with him. It didn´t prevent her from keep on going in her own acting career and she won Academy Award for a movie The Three Faces of Eve. In two years time she became the first actress in history who had her star unveiled on the Fame pavement.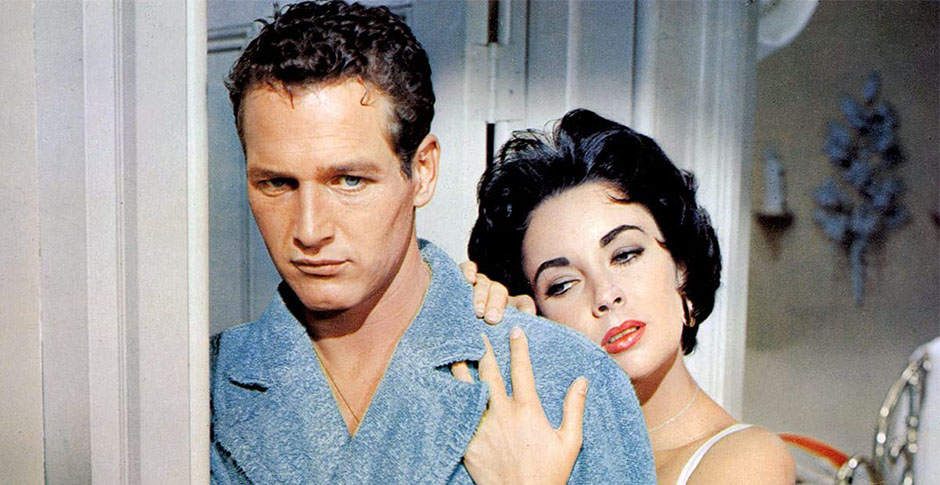 Further ground breaking role which stabilized his position of star in the making was film Cat on Hot Tin Roof. He was a partner of charming Elizabeth Taylor and agent got him 17 000 dollars for that part. Furter and further films followed and one that deserves mention is Long Hot Summer for which he got the Award for the Best actor on Cannes Film Festival. It was his first important international accolade.
Studio Warner Bros forced him to play in substandard films for mickery mouse money and also rented him to other studios. Paul felt that elsewhere he could play in much better films for lot more money and his career could blossom much more. He shared his dissapointment with press and studio got furious over that. His agent Lew Wasserman recommended him to keep on playing in various films and he will manage to secure a chance to buy himself out of the contract for half a million dollars. The films he was playing in, were usually flops and Lew waited for a time when Jack Warner was in bad mood and cursed Newman and offered him to "get rid off" Paul for half a million. Greedy Warner jumped at the chance, grabbed the money and the problem was solved.
Newman was free but at the very beginning, almost without money and he had to support his four children, wife, ex-wife and old mum. It brought him often the nightmares but despite that he was confident that he made right decision: "I could freely decide what to do and if I failed, it would be only my own fault."
Since he needed money, during playing Sweet Bird of Youth he started to direct his own movie From the Terrace. But he misjudged this decision and while amount of work doubled he started to run out of steam and it showed on the theatre where he sometimes didn´t put as much effort as he should have and he was finally replaced by actor Rip Torn. Nevertheless Lew Wasserman got him a role in movie Exodus for 200 000 dollars and Newman was also nominated for Academy Award for Cat on the Hot Tin Roof.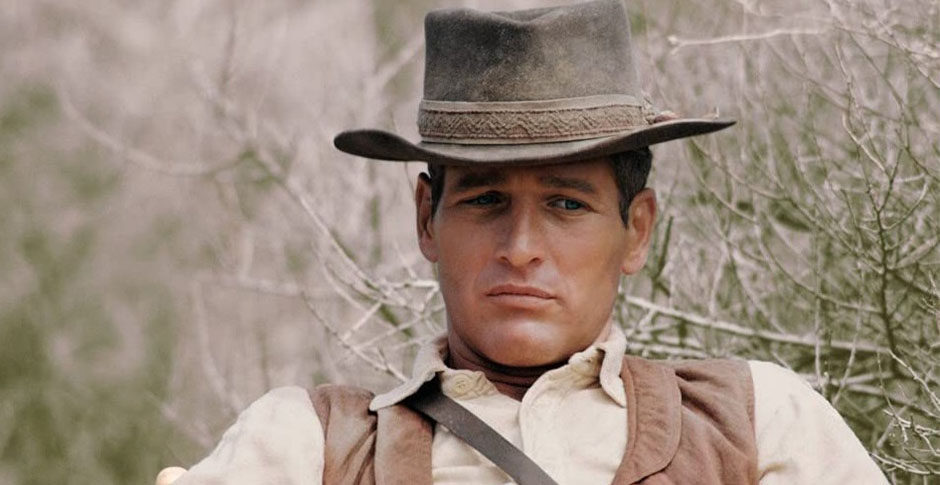 In came 60´s and Paul climbed higher and higher in popularity chart. He made many memorable films showed also in communist Czechoslovakia, such as Hud, Harper, Hombre or Cool Hand Luke and his fee was a million per one movie. He became a film superstar and also became active on public front, protesting against nuclear armament or defending human rights.
He was always diplomatic and decent so even conservative Hollywood left him alone. Paul claimed, that when he chose acting as his job, he didn´t discard his civil rights. But he strictly separated his job from his private life, which was something he didn´t intend to share with either fans or media. With director Martin Ritt he established production company, in order to be able to choose films according to his liking. He refused many films which later became commercial hits and had good reviews e.g. Seven Days in May, The Spy Who Came in from the Cold, In Cold Blood, The Sand Pebbles or 451 Fahrenheit.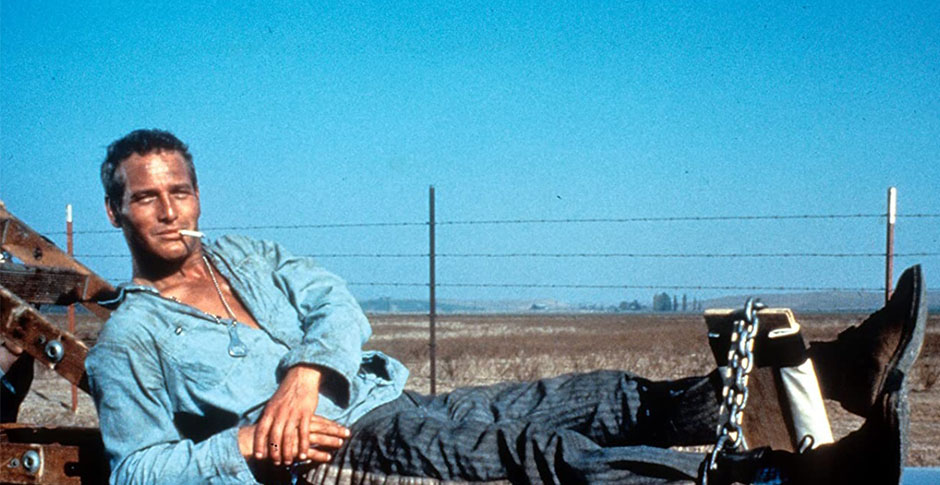 Just because I am a film personality I don´t intend to ignore what is happening around me.
When he read a script for The Hustler, he got so hooked that he called his agent and told him to get him into this film. Although it wasn´t a box office hit, it earned nine Academy Award nominations and it became one of the films Newman enjoyed talking about. Following movie was Hud, which earned seven Academy Award nominations. Paul didn´t attend the ceremony, and gave his vote to competitor Sidney Poitier who really won the Oscar. Despite his film star status, he was still firmly standing on the ground and joined demonstrations supporting Martin Luther King or flew to Alabama to support arrested activists. While governor of Alabama didn´t bother to meet him, and Paul was labelled as trouble maker, he himself claimed: "Just because I am a film personality I don´t intend to ignore what is happening around me. Am I to discard my civic responsibility in order not to harm my film career?"
In 1962 Newman and his wife helped to re-activate Actors Studio and not only they financially secured it but also in 1964 played in new performance The Census Taker for four months for minimum wages of 117,5 dollars per week, while other known actors of same theatre demanded 1 000 dollars weekly. Despite the reviews were bad, it was always sold out and it earned 150 000 dollars for Actors Studio. Just for the comparision, other performance where Paul and Joan didn´t play had favourable reviews but it lost 60 000 dollars for same period of time.
In Hollywood he was so much in demand and went from film to film and changed genres not to be stuck in one labelled box. Obviously, success was mixed with flops and one of them was a movie called Torn Curtain which was directed by famous Alfred Hitchcock. At the time of filming, the script wasn´t ready yet and Newman didn´t feel right in the character. Chemistry didn´t work between actor and director. The last film Newman made with Martin Ritt was Hombre. Then he established Newman-Foreman Company which produced films with and without Newman.Already at that time he was giving six figure sums for charity.
At hat time Paul wanted to direct another film. It was adaptation of novel A Jest of God. He offered it to all main film studios but was refused by all of them. So finally he made a deal with Warner Bros that he and Joanne will work for free in return for budget and 1/3 of profit they will make other films. Moreover, Newman promised to finance the film if the budget is exceeded. It shows, that even such star didn´t have all Hollywood doors opened and it is just tough business.
Film was shot in Connecticut, they made their offices in local hotel and sound studio was built in local gym. At the first day of shooting Paul said to whole crew that he has no experience with directing film and he welcomes any ideas or criticism. He was determined to film quickly and in top quality. Very often he had quarrels with script writer Stewart Stern and they sometimes didn´t talk to each other, Joanne was excellent in her part. At the end of filming they run out of money and had to return borrowed equipment so last shot was made the way that Stern was pushing the supermarket trolley with cinematographer sitting in it. Film finally got a title Rachel, Rachel.
We wanted to prove Hollywood that it is possible to make a film about ordinary people without violence.
In order to relax a bit, Paul played in a movie Cool Hand Luke. It became a hit and he was nominated for Academy Award again. Just for interest we mention here that he competed for Oscar with Warren Beatty in Bonnie and Clyde, Dustin Hoffman for Graduate, Rod Steiger for In the Heat of the Night and Spencer Tracy for Guess Who is Coming for Dinner. All classic movies still remembered today (do you remember who won the Oscar two or three years ago?) which can´t be said about current Hollywood production.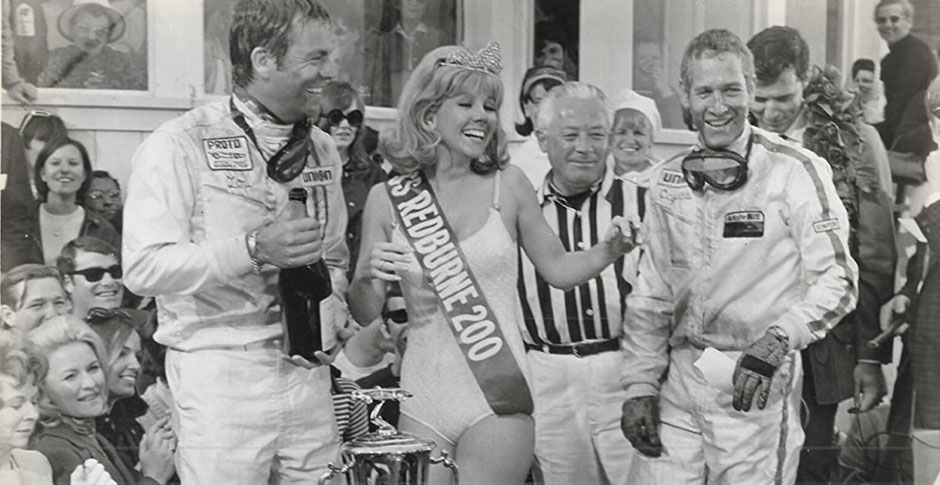 Despite Newman not transforming nomination into Oscar for fourth time, he was happy since his film Rachel, Rachel was box office hit and had good reviews. He commented that: "I put my taste against taste of eight major studios that didn´t want to buy the film. I was hoping it will be a success not because of profit, but to prove Hollywood that it is possible to make a film about ordinary people, without violence."
Film Rachel, Rachel was nominated for Academy Award in four categories, Best actress, Best supporting actress, Best film and Best script but not for Best director and many people asked if that is Academy revenge, ignoring Newman. Finally film didn´t win any Oscar and Newman was bitterly dissapointed.
His next film Winning not only brought him 1,1 million fee but it also brought him to car racing. He learnt how to drive racing car really fast and was so hooked that in the future he took part in many championships as amateur driver and he used to choose films not to collide with his racing schedule. Later on he not only won many championships, but finished second in 24 hours Le Mans and established his own CART team Newman-Haas.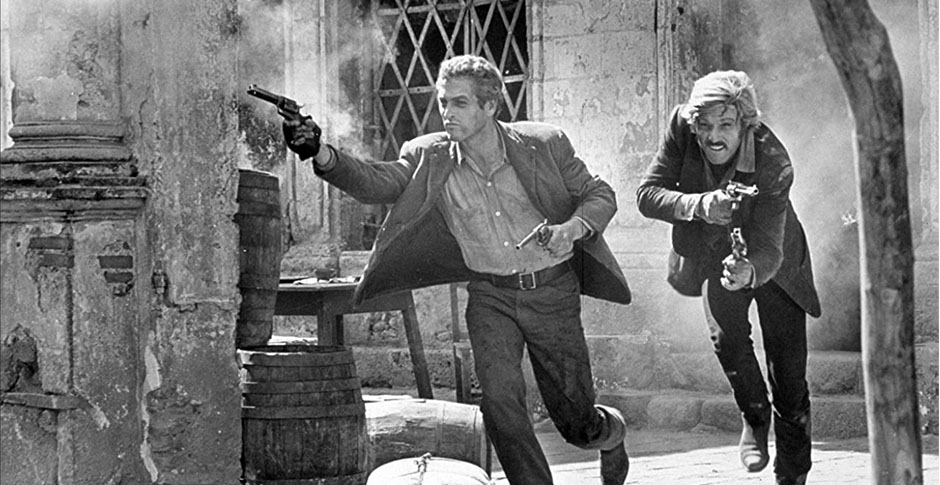 Next film in line was Butch Cassidy and Sundance Kid where his partner was Robert Redford who was recommended by Joanne Woodward who knew his work. Originally Steve McQueen was chosen to play with Paul but he competed with him in popularity and was offered less money, so he refused. Film was massive box office hit and earned 102 million dollars. Newman and Redford liked each other, chemistry worked and they became firm friends who respected each other.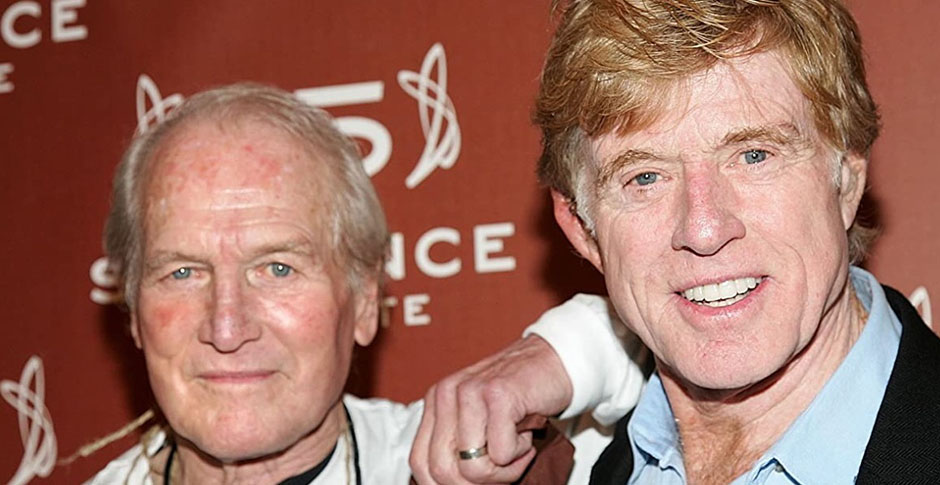 In July 1969 Paul Newman, Steve McQueen, Sidney Poitier and Barbra Streisand established First Artists Production Company.They intended to make their own films which studios didn´t let them make. Newman commented that: "It was a way how to take over control over own films and get rid off big production and distribution dinosaurus. That big studio machinery takes big chunk as well as distribution and I don´t know why studios should take all those money. I want to have absolute control over everything."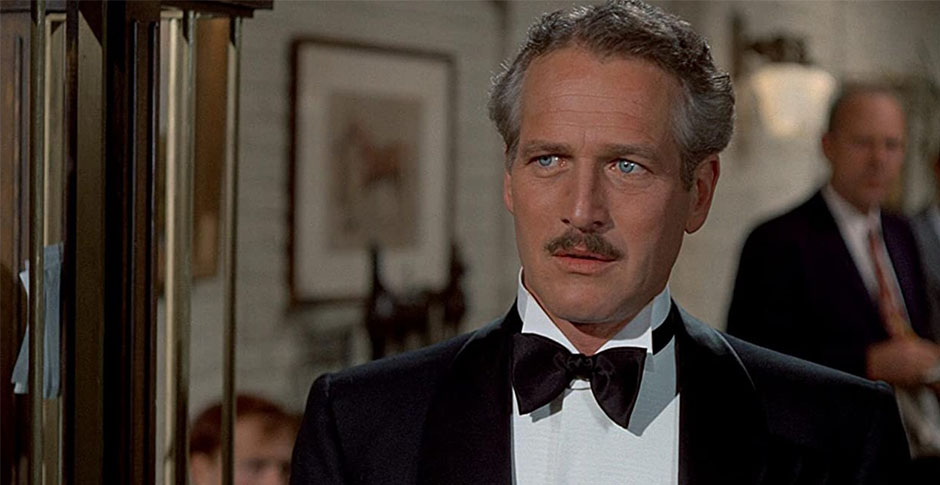 After many years when Newman´s and Redford´s popularity got sky high, they got together again for movie The Sting. It all clicked again and film was even bigger box office hit grossing 165 million dollars. It earned seven Academy Awards and was the most successful film in whole Paul´s career. Production company First Artists existed till 1980 and wasn´t very successful, producing only ten movies in whole decade. It ceased to exist after Newman established his new company Projections Unlimited. One of his first films was to be adaptation of novel The Front Runner where he was to play a gay. He openly claimed he supports their rights and tabloid press started to refer about him in association with queers. In the end, the negative reaction was far to much for Paul and he shelved the project. Next film in line was The Towering Inferno which belonged to then popular line of catastrophic films. That movie was star studded and Paul got there a stuntman job for his problematic son Scott who was drug addicted and got in troubles with law. Newman didn´t like that movie and said it was the only one, up until this time, he made only for money. In total he earned 10 million dollars.
In middle of 70´s Paul was still trying to find some interesting projects and kept on refusing the roles that would repeat what he has already made. It resulted in many films being flops and his popularity diminished. He directed another film called The Shadow Box with Joanne playing leading role. Despite great actors´ performance film wasn´t positively accepted since both for viewers and critics topic about death and homosexuality was too depressive.
I don´t know why the studios should take all those money. I want to have control over my films.
After many lean years the offer came in 1980. Film was called Fort Apache in Bronx. Paul was great but film didn´t have big profit since it had a message and it wasn´t very popular in America. Press tore him apart so Paul gladly accepted the offer for film Absence of Malice.
It´s topic was almost prophetic and showed what is happening these days mainly on social networks. Newspapers printed an article claiming that a citizen is suspected from unravel crime. Citizen, who was innocent, lost his business due to that article and his friend commited suicide. It was Newman´s personal criticism of press which often attacked him. He admitted that: "It was direct attack at New York Post. I was willing to make something about bad journalism." For this film he was nominated for Academy Award for fifth time and he was back in top form.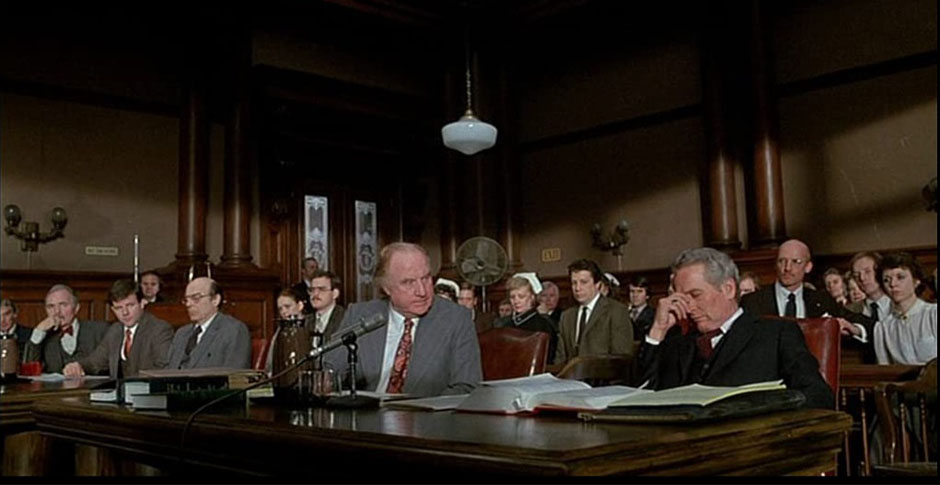 At that time he became a businessman and established a company Newman´s Own, that has produced dressings for salads, sauces for spaghetti, pop corn, lemonade etc. His aim was to give whole profit to charity. He was so successful that he gave away tens on millions every year. Alongside that he became again very active in car racing with recharged batteries. It showed in his new film The Verdict by director Sidney Lumet. The part of lawyer who went bust was refused both by Frank Sinatra and Paul Redford so Paul gladly accepted it and was in excellent form for which he was nominated for Academy Award for sixth time, in vain again. He commented that: "I flew to Hollywood only to prove that I am lost case".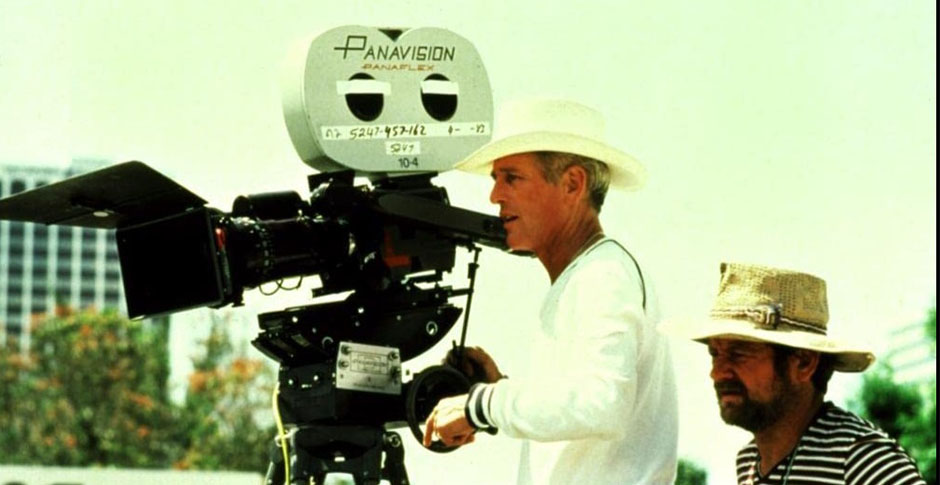 Another Paul´s directing project was Harry and Son where he was also starring. It was personal testimony resembling his personal relationship with son Scott who died for drug overdose. Newman himself admitted it didn´t work and very often while acting he was more observing other actors than concentrating on his own performance. Film was a flop. When he celebrated his 60. birthday Academy decided to award him honourable Oscar for long time contribution to the film.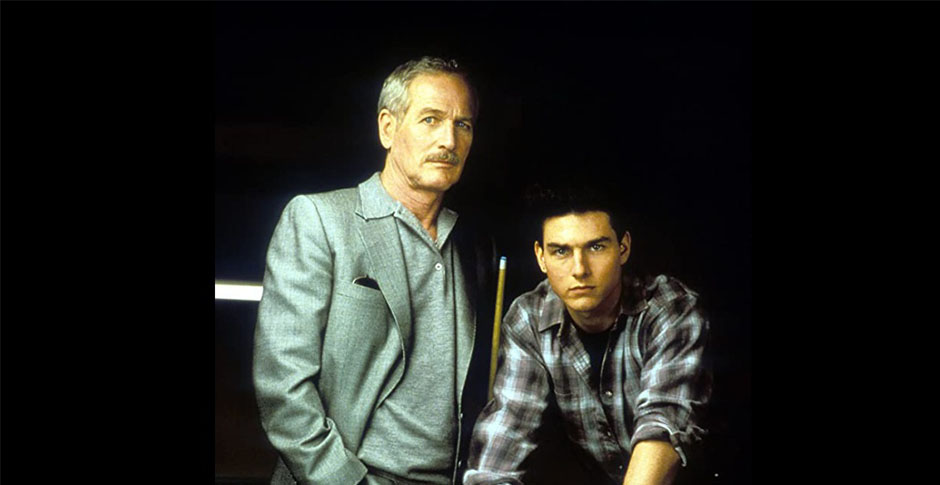 His next movie was called The Color of Money where he was supported by new up and coming star Tom Cruise. Paul repeated his role in The Hustler and was directed by Martin Scorsese.Movie was big hit and earned 60 million dollars and Paul showed that even at his age he is in top form. He was nominated for seventh time for Academy Award, but he didn´t bother to fly in for the ceremony. He finally won it, year after getting the honourable one.
Despite doing so many good things on the charity department and in public and his personal life, he was put on the black list in The New York Post and nothing could be written about him, his connection with charity and his business. Owner of the papers, Rupert Murdock, also owned 20th Century Fox. Newman claimed that he won´t ever cooperate with his studio since: "Murdock is a parasite, who grabs everything, uses it, squeezes every cent out of it and never gives it back." He kept his word and never made any film for that studio.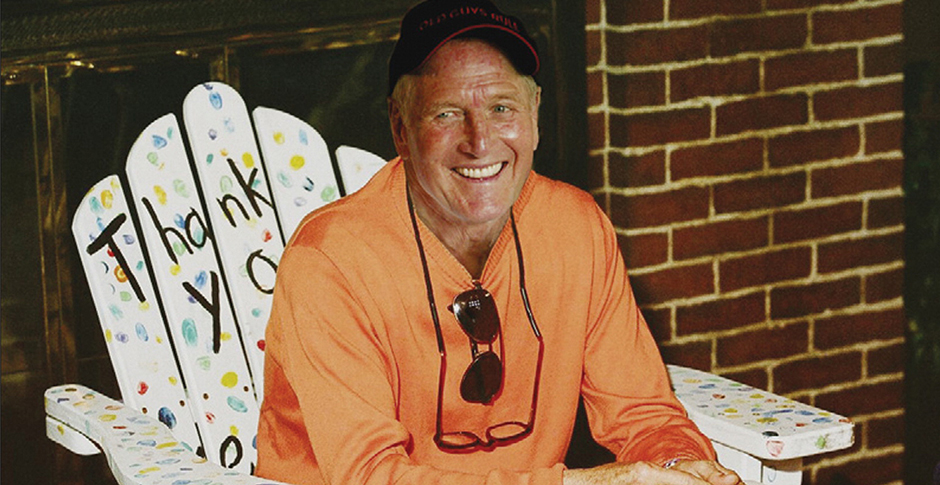 At that time he established another charity project for sick children called Hole in the Wall.
It was a camp where children under watchful eyes of various specialists could forget about their illnesses and bad time spent in hospitals. After first camp in Connecticut other camps we built in New York, Florida, Ireland, France, Izrael and Africa. During first twenty years of it´s existence all 11 camps hosted over 120 000 kids. All was financed by Paul Newman himself or his company. Paul sometimes arrived to the camp in Connecticut and went fishing with children or sung with them by the camp-fire.
God sometimes creates perfect human being and Paul Newman was one of them.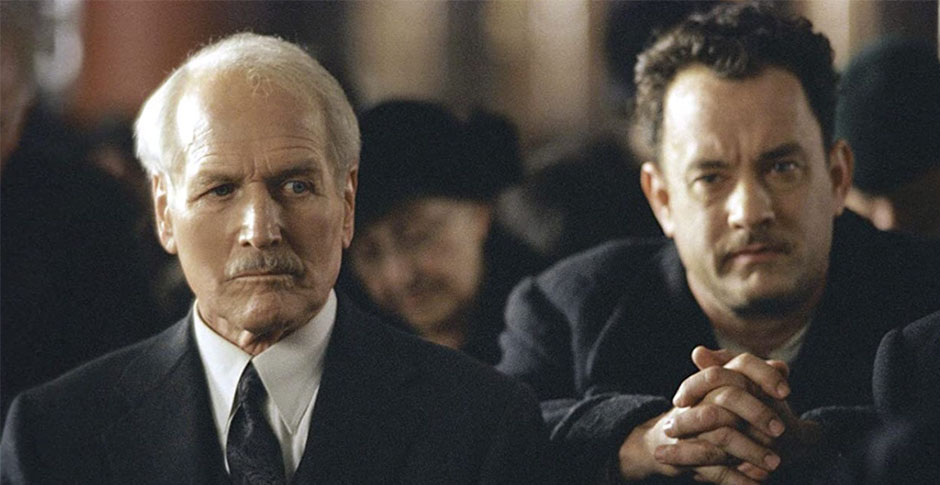 With coming age offers became less and less frequent but it didn´t bother Paul. He was living life to full and was still in good condition. In 2001 he was offered a part in movie Road To Perdition filmed by Sam Mendes and starred by Tom Hanks, Daniel Craig or Jude Law.
Paul was filming two weeks and was nominated for Academy Award for Best supporting actor but didn´t win it. Film was very successful, earned over 100 million dollars. A year before his 80.birthday he played in movie Expire of Empire Falls. Paul had still charisma and won Emmy, Golden Globe and Actors Guild Award.He didn´ attend any of the ceremonies, awards never meant a lot for him.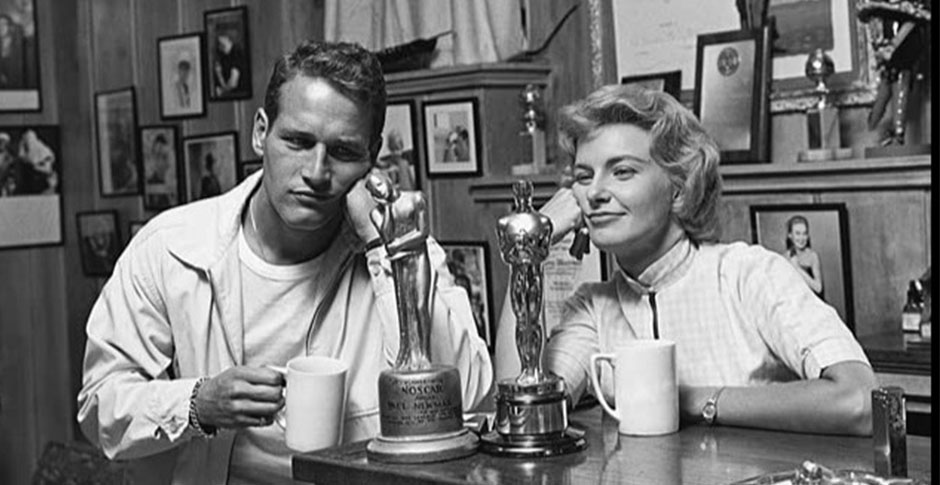 At the end of his life he used to send (with Joanne) Christmas cards saying: "We have more than we need. Call this number, and tell my assistant what is your favourite charity. We will do our best not to ashame you." They gave away their own money.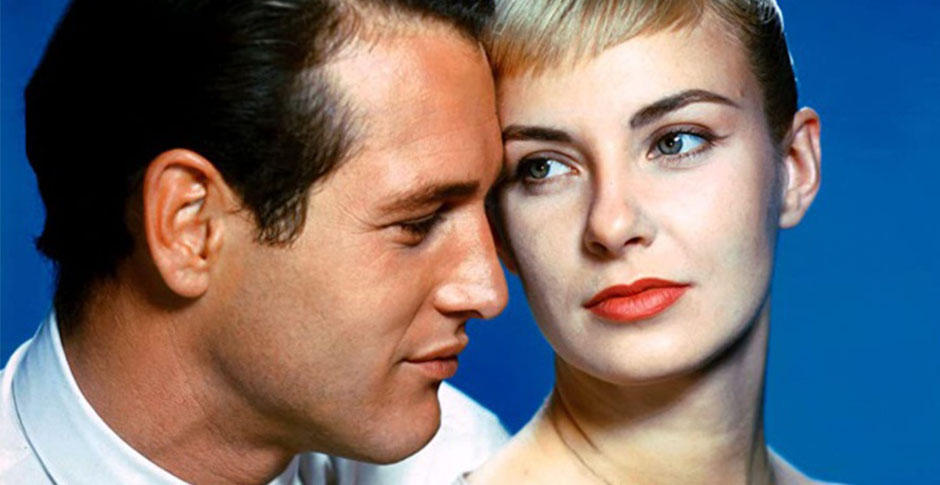 Paul started to film few years before collapse of studio system and for majority of his career he stayed independent. Before he came, image and behavior was dictated by studio bosses, but Paul himself decided what films he will make and how he will present them. He has built his career and image the way he wanted. He knew that acting is hard job and he was brought up to doing everything at 100 %.
When he died for cancer on 29.9.2008, all world agencies mentioned that. Deep sympathies flooded from all over and he was praised by his mates. One nice quote was said by Sally Field: "Sometimes God creates a perfect human being, Paul Newman was one of them." George Clooney summed that up in words: "He put the standard too high, not only for us actors, but to all people."
Photo, thanks: IMDb